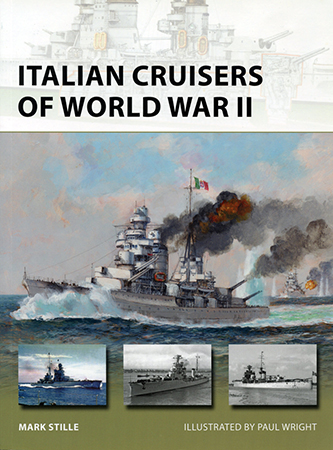 Italian Cruisers of World War II Book Review
| | | | |
| --- | --- | --- | --- |
| Date of Review | July 2018 | Title | Italian Cruisers of World War II |
| Author | Mark Lardas | Publisher | Osprey Publishing |
| Published | 2018 | ISBN | 9781472825353 |
| Format | 48 pages, softbound | MSRP (USD) | $18.00 |
Review
Mark Stille distills and dissects Italian Cruisers of World War II in the 261th installment of Osprey's extensive "New Vanguard" range.
Contents commence with notes on post-WWI political influences and Regina Marina design factors – as well as on weapons, fire control, and radar.
Coverage then segues to summaries of major surface actions – and thence to every Fascist Italian heavy and light cruiser class, including war prizes:
Condottieri – Da Barbiano Group
Condottieri – Luigi Cadorna Group
Raimondo Montecuccoli – First Group
Raimondo Montecuccoli – Second Group
Garibaldi
Capitani Romani
Ex-Imperial German WWI Cruisers
Individual class sections include design, armament, and deployment comments. Photos, color profiles, and action paintings provide plenty of eye candy. And tables recap constituent warship specifications, milestones, and fates.
Sidebars and extended captions further augment the account. An "Analysis and Conclusion" puts Fascist Italy's cruisers into historical perspectives. And an index and selected – albeit truncated – bibliography wrap things up.
But don't expect annotations to guide further study. Why no mention of the old, but operational "incrociatore corazzato" San Giorgio? Remember that "preventative" remains a noun – not an adjective. And note that the destruction of Axis forces – not Allied – occurred "in Tunisia in May 1943".
Osprey's pithy précis totals just 48 pages. And it succinctly supplements the publisher's Italian Battleships of World War II (New Vanguard 182). Make it your introduction to these fascinating, but largely neglected, warships.
Recommended!
My sincere thanks to Osprey Publishing for this review sample!