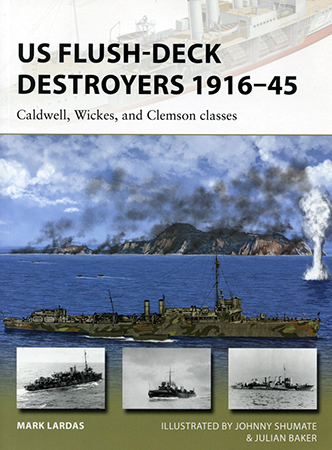 US Flush-Deck Destroyers 1916–45 Book Review
| | | | |
| --- | --- | --- | --- |
| Date of Review | June 2018 | Title | US Flush-Deck Destroyers 1916–45 |
| Author | Mark Lardas | Publisher | Osprey Publishing |
| Published | 2018 | ISBN | 9781472819970 |
| Format | 48 pages, softbound | MSRP (USD) | $18.00 |
Review
Mark Lardas surveys some truly iconic, 20th-century warships in US Flush-Deck Destroyers 1916–45 – 259th in Osprey's massive "New Vanguard" series.
With the vast majority sporting singular "four-pipe" silhouettes, the distinctive designs dominated American destroyer ranks for two decades – and fought with distinction under multiple flags in both World Wars. USS Ward, for instance, fired the first US Navy shots in WWII during the Pearl Harbor attack, 7 Dec 1941.
Hundreds across three classes were built:
Caldwell,
Wickes, and
Clemson.
Most were eventually reclassified destroyer escorts. Others were rerated gunboats. And still others were converted to, for instance, minesweepers, minelayers, seaplane tenders, mobile targets, and fast transports. Scuttled in drydock, USS Stewart (DD-224) was actually salvaged by the Imperial Japanese Navy.
Nitpicks? Spain mustered two destroyers during July 1898's Battle of Santiago de Cuba – Furor and Pluton.
But that's piffle.
Photos, color profiles, a cut-away, and action artwork illustrate the account. And sidebars and extended captions augment the account with lots of engaging details.
An index and selected bibliography neatly conclude contents. But, unfortunately, don't expert any annotations – a consistent Osprey shortcoming.
"The first flush-deck destroyer," Lardas reminds us, "was commissioned in October 1917". At the end of WWII, 76 still remained in American service – with some surviving in other navies. And the last was laid up in 1950.
Make this succinct study your introduction to that fascinating, 33-year history.
Recommended!
My sincere thanks to Osprey Publishing for this review sample!