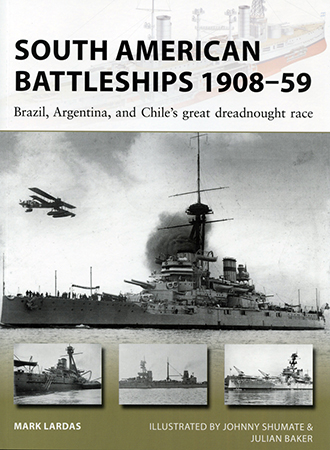 South American Battleships 1908–59 Book Review
| | | | |
| --- | --- | --- | --- |
| Date of Review | January 2019 | Title | South American Battleships 1908–59 |
| Author | Mark Lardas | Publisher | Osprey Publishing |
| Published | 2018 | ISBN | 9781472825100 |
| Format | 48 pages, softbound | MSRP (USD) | $18.00 |
Review
Launched in 1906, HMS Dreadnought irretrievably changed the calculus of naval warfare – spurring a global arms race.
Now Mark Lardas recaps Latin America's response in South American Battleships 1908–59 – number 264 in Osprey's extensive "New Vanguard" series.
And what a spellbinding survey it is.
Subtitled Brazil, "Argentina, and Chile's great dreadnought race", Osprey's succinct, 48-page study follows the publisher's proven prescription.
Coverage commences with background notes to Dreadnaught's impact on regional balances of power. Text next turns to the design, construction, and eventual deliveries of five battleships to Brazil, Argentina, and Chile.
But events and technologies quickly outpaced the purchases.
When first ordered, for instance, Brazil's modern, powerful Minas Geraes, proved "a generation ahead of any other dreadnought being built" – but "functionally obsolete" just ten years later. Of "limited use" during WWI, it patrolled the mid-Atlantic with sister São Paulo.
None of South America's battleships saw combat during WWII. Most became training vessels or floating batteries at the ends of their careers. And all five went to the breakers in the 1950s.
Photos, color profiles, and action paintings provide plenty of eye candy. Individual vessel sections include design, armament, deployment, and disposition notes. And tables recap constituent warship specifications and milestones.
Sidebars and extended captions further augment the account. And an index and selected bibliography wrap things up.
Early in the 20th century, South America boasted five of the world's most powerful warships. And for a half century, all saw war and revolt, peace and privation, use and decay.
Get the story. Grab this informative and entertaining little book.
Recommended!
My sincere thanks to Osprey Publishing for this review sample!