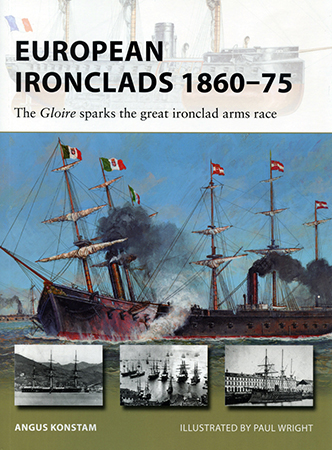 European Ironclads 1860–75 Book Review
| | | | |
| --- | --- | --- | --- |
| Date of Review | June 2019 | Title | European Ironclads 1860–75 |
| Author | Angus Konstam | Publisher | Osprey Publishing |
| Published | 2019 | ISBN | 9781472826763 |
| Format | 48 pages, softbound | MSRP (USD) | $19.00 |
Review
"While history best remembers the ironclads of the American Civil War such as the Monitor and the Virginia (formerly the Merrimac), these American warships were dwarfed by the far larger and more powerful oceangoing ironclads entering service in European navies."
That's Angus Konstam on the mid-19th-century revolution in naval warfare sparked by launch of France's armored warship Gloire.
Now Konstam tells the terrific tale in European Ironclads 1860–75: The Gloire sparks the great ironclad arms race – 269th in Osprey's amazingly vast "New Vanguard" range.
And he surveys the scramble – and key ramifications of ironclad development – in just 48 pithy, picture-packed pages.
Armament arrangement proved one factor. Early oceangoing ironclads carried many smaller caliber canons in broadside fashion. But newer designs soon concentrated fewer, larger caliber weapons in armored casemates or barbettes.
Moreover, steam propulsion progress eventually led to the reduction or elimination of masts and rigging. With these hindrances minimized, navies soon concentrated weapons in rotating turrets with relatively free fields of fire.
Thus the template for modern warships arrived by the mid-1870s – and the race intensified.
Konstam then courses, country-by-country through European ironclad design, development, deployment, and disposition. Text and tables cover warship classes, individual vessels therein, specifications, construction notes, and fates.
The fire of battle further refined European ironclad design. And Konstam competently recaps both minor clashes and the only major engagement of the age – the 20 July 1866 Battle of Lissa between Austria and Italy.
Photos, color plates, and action illustrations, augment the account. Extended captions and sidebars, further supplement the study. And a selected bibliography and index complete contents.
Recommended!
My sincere thanks to Osprey Publishing for this review sample!