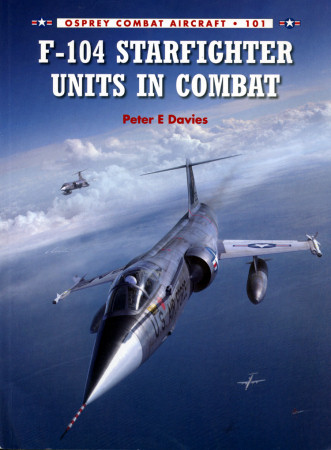 F-104 Starfighter Units in Combat Book Review
| | | | |
| --- | --- | --- | --- |
| Date of Review | May 2015 | Title | F-104 Starfighter Units in Combat |
| Author | Peter Davies | Publisher | Osprey Publishing |
| Published | 2015 | ISBN | 9781780963136 |
| Format | 96 pages, softbound | MSRP (USD) | $22.95 |
Review
"By the mid-1960s," author Peter Davies notes, F-104 "Starfighters were in use with 15 air forces – more than [with] any other US fighter". Lockheed's design ultimately served 42 years, worldwide – arguably making it America's most successful "Century Series" aircraft.
Now Davies tells the total tale in the enormously informative F-104 Starfighter Units in Combat – 101st installment in Osprey's popular "Combat Aircraft" series.
After illuminating introductory notes on Starfighter design, development and deployment, contents capably course through Vietnam, Pakistani, Jordanian, Taiwanese, Turkish and Italian combat use.
Coverage naturally concentrates on F-104A/Cs – the principal Starfighter variants to fire their weapons in anger. But Gs and Ss also enjoy exposure.
USAF F-104s deployed for action during the Formosa Straits and Cuban Missile crises. But escorting Project Big Eye EC-121D early warning aircraft during the Vietnam War proved the F-104's principal USAF combat duty. Not a single Connie fell to North Vietnamese fighters during those escort missions. Of nearly 1,200 F-104 combat sorties over Southeast Asia, over half protected Big Eye missions.
Starfighters, Davies notes, first drew blood in Pakistani service during the 1965 Kashmir border brawl with India – and, later, during the 1971 Bangladesh war. Only one F-104A fell to enemy action in both conflicts. Jordan also received F-104As – and with covert US complicity, transferred many to help Pakistan replenish its depleted Starfighter force.
Taiwan, too, fielded F-104s – As, Gs and Js – in ongoing clashes with mainland China. The combat record of RoCAF Starfighters, in fact, convinced F-104 designer Kelly Johnson to pursue his "big-wing, more maneuverable" "Lancer" extrapolation.
And Turkey employed over 400 Starfighter variants – one Filo of which participated in the 1974 Cyprus invasion. Finally, Italian F-104 variants – including Sparrow-equipped "S" versions – deployed in air-defense roles during late-20th-Century encounters with Libya, Iraq and Kosovo.
Davies packs plenty of entertaining anecdotal accounts – and fun, fascinating facts – into his entertaining account. Rated an "excellent pilot", the son of Japan's legendary Admiral Isoroku Yamamoto, for instance, trained on F-104s with the South Carolina ANG's 157th FIS.
Color shots, B&W photos and color profiles illustrate the effort. Extended, explanatory captions also augment the account. And a selected bibliography and index conclude contents.
Gripes? A glossary might help novitiates navigate America's military acronym jungle. That's Andersen AFB – not "Anderson". And Davies' chronicle could use some annotations.
But enough nitpicks! Osprey's slim study carries my highest recommendation. Make it part of your Cold War reference library!
My sincere thanks to Osprey Publishing for this review sample!