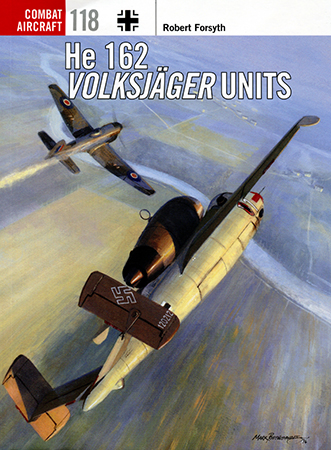 He 162 Volksjäger Units Book Review
| | | | |
| --- | --- | --- | --- |
| Date of Review | December 2016 | Title | He 162 Volksjäger Units |
| Author | Robert Forsyth | Publisher | Osprey Publishing |
| Published | 2016 | ISBN | 9781472814579 |
| Format | 96 pages, softbound | MSRP (USD) | $22.95 |
Review
Author Robert Forsyth illumines one of the dangerous, desperate measures Hitler took during Nazi Germany's death throes.
Liberally seasoned with absorbing anecdotes, He 162 Volksjäger Units – 118 in Osprey's "Combat Aircraft" series – spans 96 pages across five fascinating chapters:
"The people's fighter"
"'We had not reckoned with such little time'"
"Training and trials"
"Jagdgeschwader 1"
"'This jet fighter should be studied further'"
The Third Reich largely pinned air-defense hopes on Messerschmitt's complex, twin-engine Me 262 – a "first rate and technologically advanced interceptor". Me 262 output, however, proved slow. And Nazi Germany sought a high-speed single-engine jet fighter that could be "built quickly and cheaply".
Enter the perilous Volksjäger program. Proponents pictured thousands of inexpensive, easy-to-manufacture and easy-to-fly interceptors piloted by "boys as young as 15 to 17 years of age" in combat.
Cooler heads swiftly spotted the reckless proposal's folly. But the Reich's rapidly deteriorating defenses nonetheless propelled Volksjäger to production. And Ernst Heinkel Aktiengesellschaft won the Fall 1944 contract.
The He 162's innovative design, troublesome development and desperate deployment spanned a mere half year. And the little fighter finally achieved operational service 19 April 1945 – weeks before Germany's inevitable collapse.
B&W photos, extended captions, appendices, selected bibliography and index augment Osprey's account. And Jim Laurier's superb color plates survey He 162 schemes for modelers.
In the end, Forsyth reports, "171 He 162s were manufactured in total, with Luftwaffe delivery statistics listing 116 Heinkels as being delivered by the various factories."
But "[o]nly 56 of these aircraft made it to the Luftwaffe" the author concludes. Heinkel's "remarkable contribution to military aviation history produced – in just six months – the first operationally ready single-engine jet fighter, and the first of its kind to incorporate an ejection seat."
Find out how. Get Osprey's superbly entertaining, informative account.
Robustly recommended!
My sincere thanks to Osprey Publishing for this review sample!