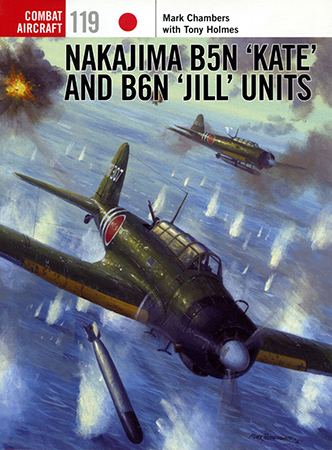 Nakajima B5N 'Kate' and B6N 'Jill' Units Book Review
| | | | |
| --- | --- | --- | --- |
| Date of Review | September 2017 | Title | Nakajima B5N 'Kate' and B6N 'Jill' Units |
| Author | Mark Chambers, Tony Holmes | Publisher | Osprey Publishing |
| Published | 2017 | ISBN | 9781472818744 |
| Format | 96 pages, softbound | MSRP (USD) | $23.00 |
Review
Nakajima B5N "Kate" and B6N "Jill" Units - 119 in Osprey's "Combat Aircraft" range - recaps the design, development and deployment of the Imperial Japanese Navy's principal WWII torpedo/attack bombers.
Author Mark Chambers with Tony Holmes devotes the bulk of the book - about 70 of 96 pages - to chronicling "Kate".
After brief introductory notes, coverage courses from initial B5N combat in China through early Pacific War victories to eventual obsolescence and second-line service.
A further ten or so pages outline the far less successful B6N "Jill". Nakajima's improved design never quite met IJN expectations. And Japan employed many in suicide strikes.
Brief, but illuminating "Kamikaze" comments also underscore the decline of IJN airpower - and conclude contents.
Jim Laurier's excellent color profiles provide plenty of model project inspiration. Photos, extended captions, artwork commentaries, and index also augment the account. 
Gripes?
Verbatim quotes occasionally consume whole pages. And memoirs dominate these. Anyone familiar with after-action reports knows how questionable personal recollections can be. I would have preferred précis of passages - with correlated official accounts.
Don't expect annotations, either. And don't expect a selected bibliography. Lack of the latter proved especially disappointing.
Still, I enjoyed Osprey's entertaining little effort. Make it your springboard to further study of Nakajima's torpedo-armed twins.
My sincere thanks to Osprey Publishing for this review sample!