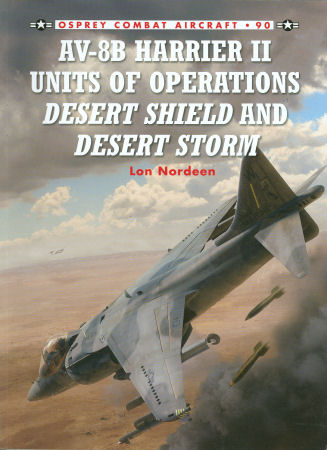 AV-8B Harrier II Units of Operations Desert Shield and Desert Storm Book Review
| | | | |
| --- | --- | --- | --- |
| Date of Review | January 2012 | Title | AV-8B Harrier II Units of Operations Desert Shield and Desert Storm |
| Author | Lon Nordeen | Publisher | Osprey Publishing |
| Published | 2011 | ISBN | 978-1-84908-444-4 |
| Format | 96 pages, softcover | MSRP (USD) | $22.95 |
Review
From the first flight trials of the British Harrier in the 1970s through the development and deployment of the Harrier II, the US Marine Corps had put a significant amount of effort to make this aircraft a centerpiece in its concept of operations. Unlike conventional aircraft, the Harrier can be deployed to very small forward operating bases close to combat operations and these aircraft can be in the air and on-target long before their conventional counterparts. The Harrier would not get to really prove its capabilities in US service until the 1990s, but military planners had seen the combat capabilities of the Harrier during the Falklands War in which this small and agile aircraft was able to conduct air defense as well as close air support and reconnaissance missions throughout the conflict.
As tensions grew in the Middle East over the Iraqi invasion of Kuwait, US forces quickly deployed into available land bases in Saudi Arabia, Bahrain, Qatar, as well as at sea to provide protection to region in Operation Desert Shield. The US Marines had the job of halting any Iraqi incursions into Saudi territory around its borders with Kuwait and eastern Iraq. Air support for these Marines came from five squadrons of Harriers as well as rotary wing aviation. These close-quarter support capabilities would be essential in the weeks to come as well as into the transition from defense to offense as Operation Desert Storm began.
The author provides a look at the deployment and operations of each of the five Harrier squadrons during Operation Desert Shield and Operation Desert Storm. Coverage of this title includes:
AV-8B and the MAGTF
VMA-311 and MAG-13 (Forward)
VMA-542
VMA-331 and VMA-513
VMA-231
This title provides nice details in the operations of these Harrier squadrons including numerous first-hand accounts from those who flew the Harrier into action. In addition, the title is nicely illustrated with nice black & white and color photography as well 24 color profiles that illustrate the variations of the color scheme worn by the aircraft during this conflict.
My sincere thanks to Osprey Publishing for this review sample!