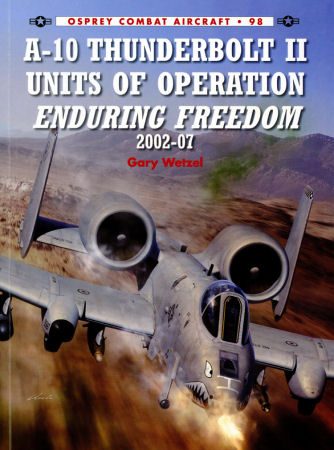 A-10 Thunderbolt II Units of Operation Enduring Freedom 2002-2007 Book Review
| | | | |
| --- | --- | --- | --- |
| Date of Review | August 2013 | Title | A-10 Thunderbolt II Units of Operation Enduring Freedom 2002-2007 |
| Author | Gary Wetzel | Publisher | Osprey Publishing |
| Published | 2013 | ISBN | 9781780963044 |
| Format | 96 pages, softbound | MSRP (USD) | $22.95 |
Review
From its very inception, the A-10 Thunderbolt II designed for the tough fight.  Although nicknamed for another Republic classic, WWII's P-47, the "Thunderbolt II" moniker is seldom seen or heard.  Since enlisting in the U.S. Air Force, I affectionately know it as "Warthog".
In Osprey's A-10 Thunderbolt II Units of Operation Enduring Freedom 2002 – 2007, author Gary Wetzel recounts the nine committed active duty, reserve and Air National Guard A-10 units supporting Coalition forces in Afghanistan.
Following a concise introduction, Wetzel chronicles the Warthog's service during most of Operation Enduring Freedom (OEF) – beginning with the near-disastrous Operation Anaconda (see my June 2013 Cybermodeller review) in March 2002.  Intertwining personal accounts into the text helps readers feel the intensity and dangers surrounding each mission.
Appendices detail all Thunderbolt II OEF deployments and color plates with an index neatly concluding the narrative.  Readers can find related Osprey titles for further reading inside the back cover.
Artwork by Jim Laurier and 63 photographs complement this introduction.  As an OEF veteran, I enjoyed seeing early pictures of Bagram Air Base.  Looking for color ideas for modeling?  Twenty-four color profiles offer hobbyists ample inspiration.
I have only one minor gripe – no acronym glossary.  Despite criticizing other books in past reviews, I still have yet to see any included.  Providing one would greatly benefit military novices.
Gripes aside, I consider this another excellent Osprey effort.
My sincere thanks to Osprey Publishing for this review sample!