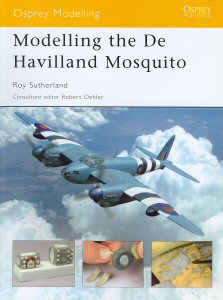 Modelling the de Havilland Mosquito Book Review
| | | | |
| --- | --- | --- | --- |
| Date of Review | March 2006 | Title | Modelling the de Havilland Mosquito |
| Author | Roy Sutherland | Publisher | Osprey Publishing |
| Published | 2005 | ISBN | 1-84176-765-4 |
| Format | 82 pages, softbound | MSRP (USD) | $17.95 |
Review
I was pleasantly surprised to see this title appear on the shelves a few months ago. The de Havilland Mosquito is one of my favorite aircraft. The aircraft was constructed primarily of non-strategic materials - wood! The aircraft was faster than most fighters and definitely faster than any bomber of the day (until the jets arrived that is).
Powered by a pair of Merlin engines, the reconnaissance version of the Mosquito (as depicted on the cover) was the lightest and fastest of the lot, and was the SR-71 of WW2 - it could out-run any fighter or other air defense system as long as both engines were running. Only toward the end of the war did a fighter appear that would threaten the Mosquito recce birds - the Ta 152H. There were many 'unofficial' stories of Mosquito crews outrunning even the P-51 Mustang!
When I picked this title up for a closer look, I was even more surprised to see who wrote the book - master modeler Roy Sutherland. For those of you who've been in modeling for a few decades, Roy owned and ran his own aftermarket detail company before getting tied up with another emerging company of interest - 21st Century Toys. Roy is the resident expert who ensures that designs and the quality of the markings are as nice as possible before those 1/18 scale masterpieces show up on store shelves. With all of that work to do, where did he get time to write this book? Never mind - he did his usual excellent job with this title. Coverage includes:
Introduction
Tamiya Mosquito B Mk.IV in the box
Building the Tamiya 1/48-scale de Havilland Mosquito B Mk.IV
Converting Tamiya's 1/72-scale Mosquito FB.VI to a NF Mk.XIII
Converting Tamiya's 1/48-scale Mosquito B Mk.IV to a PR Mk.XVI
Converting Tamiya's 1/48-scale Mosquito NF. Mk.XIII to an NF Mk.XIX
Gallery
Further reading
An excellent discussion of detailing, painting and weathering techniques is covered and illustrated with each project.
This is a definite must-have for the Mosquito-lover as well as the WW2 aircraft modeler!