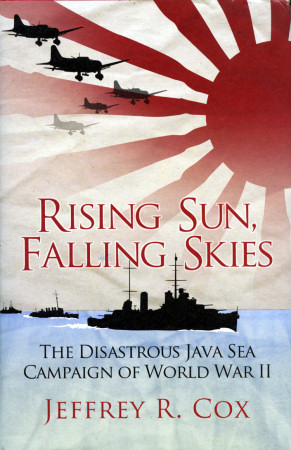 Rising Sun, Falling Skies Book Review
| | | | |
| --- | --- | --- | --- |
| Date of Review | July 2014 | Title | Rising Sun, Falling Skies |
| Author | Jeffrey Cox | Publisher | Osprey Publishing |
| Published | 2014 | ISBN | 9781780967264 |
| Format | 490 pages, hardbound | MSRP (USD) | $29.95 |
Review
"In the first six to twelve months of a war with the United States and Great Britain I will run wild and win victory upon victory," Fleet Admiral Isoroku Yamamoto, Commander-in-Chief of the Imperial Japanese Navy (IJN), predicted.
Japan spent the first three of those months systematically subduing US, British and Dutch forces in Southeast Asia.  And now Jeffrey Cox capably and conveniently chronicles those actions in Rising Sun, Falling Skies.
Subtitled "The Disastrous Java Sea Campaign of World War II", Osprey Publishing's hefty, 490-page hardback tells the whole tragic tale in 20 admirably annotated chapters.
Seasoned, aggressive Japanese forces struck with merciless, meticulously planned mayhem.  The Allies, by contrast, met the invaders with massive military malpractice and miscues – command confusion, asset mismanagement and internecine incidents.
The drumbeat of defeat and deficiency relentlessly dominates Cox's narrative.  Like Force Z – the ill-fated foray of HMS Prince of Wales and HMS Repulse from Singapore in radio silence and without air support.  And the needless, negligent destruction, on the ground, of most US Army Far East Air Force warplanes, December 8, 1941.  And the attack on Darwin – Australia's Pearl Harbor.  And the suicidal sortie of ABDA's "Combined Striking Force.
And on.  And on.
Principal personalities naturally steal spotlights – MacArthur, Wavell, Phillips, Percival, Hart, Helfrich and, of course, Doorman.  But fascinating supporting players appear, too.  Relish their tales of individual heroism.  Even USN Lieut. Cmdr. Corydon McAlmont Wassell – misspelled once – makes a guest appearance.  Ever see Paramount's 1944 movie?
Nitpicks?  Several.
The author curiously calls Nakajima Ki-43s "Zeros" – twice.  That's understandable for 1941, but utterly iniquitous today.  He also lists "Lieutenant Joe Wagner" as commander of the 17th Pursuit Squadron.  America's first WWII ace – 1st Lt Boyd D "Buzz" Wagner – would respectfully disagree.
Too often, Cox also succumbs to awkward, colloquial and idiomatic expressions.  And in stark contrast to his excellent endnotes, the author's index entries proved oddly incomplete.
In the end, the grit and determination of Allied personnel simply couldn't overcome leadership incompetence and equipment shortcomings.  And as Yamamoto prophesied, Imperial Japanese forces enjoyed six months of relentless winning.
I thoroughly enjoyed Rising Sun, Falling Skies.  Seeking a handy guide to the Pacific War's tragic first phases?  Grab this book.
Recommended!
My sincere thanks to Osprey Publishing for this review sample!