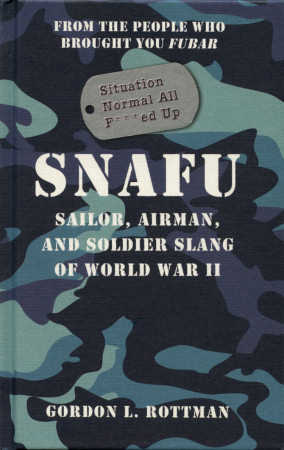 SNAFU: Situation Normal All F***ed Up Book Review
| | | | |
| --- | --- | --- | --- |
| Date of Review | December 2013 | Title | SNAFU: Situation Normal All F***ed Up |
| Author | Gordon L. Rottman | Publisher | Osprey Publishing |
| Published | 2013 | ISBN | 9781782001751 |
| Format | 376 pages, hardbound | MSRP (USD) | $15.95 |
Review
"Honey barge".  "Betsy".  And Bilgenkregse – "bilge crabs".
Swabbies trashing a bar?  Nope.  Just sample slang from Osprey's enormously entertaining SNAFU: Situation Normal All F***ed Up – "Sailor, Airman, and Soldier Slang of World War II".
Geeessshhh!  How do you read this thing?  Answer: you don't – at least sequentially.  You sample and savor.  You happily and hungrily roam the byways and backwaters of WWII service culture.  Hey, it's a smorgasbord of slang!
Billed as "From The People Who Brought You FUBAR", Gordon Rottman's little hardback hews neatly into American, British and German chapters.  And each section, in turn, alphabetically ambles through navy, air force and army jargon.
Now we know that Luftwaffe personnel dubbed braided yellow uniform lanyards as Affenschaukel – "monkey swings", after a young girl's braided hair loops.  Works for me.  RAF types called field service covers "split-arse caps".  I've definitely heard worse.  And, well, everyone who's worn a US uniform knows the book's titular term, "SNAFU".
Yeah, illustrations appear.  Some cartoons.  Some other drawings – I think.  For once, I didn't read this thing for Osprey's usual pretty pictures.
Okay, okay, I'll stop "beating gums".  Get this nearly 400-page fun-filled fest – now.  What are you waiting for?  "Egg in your beer"?
Roundly recommended!
My sincere thanks to Osprey Publishing for this review sample!