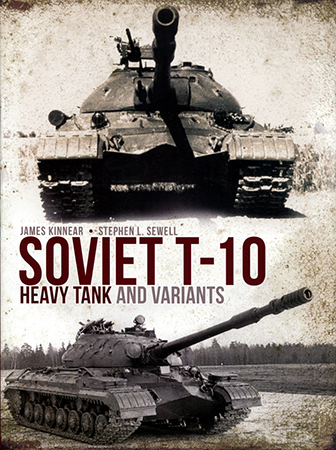 Soviet T-10 Heavy Tank and Variants Book Review
| | | | |
| --- | --- | --- | --- |
| Date of Review | August 2017 | Title | Soviet T-10 Heavy Tank and Variants |
| Author | James Kinnear, Stephen Sewell | Publisher | Osprey Publishing |
| Published | 2017 | ISBN | 9781472820518 |
| Format | 232 pages, hardbound | MSRP (USD) | $32.00 |
Review
Ultimate production version of the legendary Soviet "Stalin" series, the T-10 heavy tank evolved from troublesome and unsuccessful postwar IS-3 and IS-4 variants.
It proved to be last such "heavy" Soviet tank design.
Now James Kinnear and Stephen Sewell survey the saga in Soviet T-10 Heavy Tank and Variants – part of Osprey Publishing's "General Military" range.
The hefty, 232-page hardback traverses the tale in five chapters and nine appendices.
Coverage commences with background sections on T-10 design and development. Operational notes – including the type's unique "combat" deployment during 1968's Warsaw Pact invasion of Czechoslovakia – follow.
Soviet Premier Nikita Khrushchev ordered the end of heavy tank development and production after 1962's Cuban Missile Crisis. And the last T-10Ms were manufactured in 1965. They remained in service, however, until 1997 – outlasting the Soviet Union itself.
The next two chapters comprise a sort of technical treatise on vehicle details, variants and derivatives. How about that "bizarre looking but effective" Obiekt-279 – which actually reached prototype stage? And that TEhS-3 tracked atomic reactor for generating power in remote locations?
The last section covers preserved T-10s. Translation and transliteration notes also season the stew. And nine appendices – including glossary, abbreviations list, selected bibliography, and index – conclude contents.
Color profiles, photos, and multi-view and sectional drawings – most from official Soviet and Western military sources – also augment the account. Detail enthusiasts will appreciate the color close-ups of preserved examples.
Nitpicks?
Some intriguing images appear too small to illustrate equally intriguing details. One example: page 55's T-10M with a "red star with a swastika within painted on the track guard".
But I quibble.
This is, overall, an excellent effort. And I'd love a similar study of postwar IS-3 and IS-4 designs. How about it, Osprey?
Building one of Trumpeter's T-10s? Or Meng's 1/35 version? Fact-checking Voyager's detail set? You need this book.
Robustly recommended.
My sincere thanks to Osprey Publishing for this review sample!