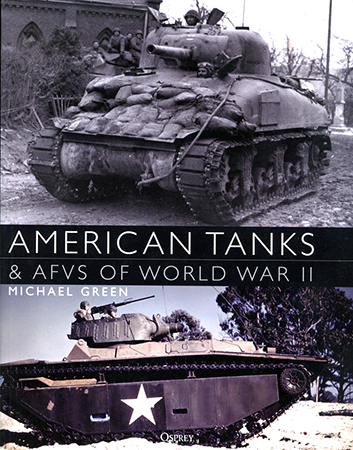 American Tanks & AFVs of World War II Book Review
| | | | |
| --- | --- | --- | --- |
| Date of Review | June 2018 | Title | American Tanks & AFVs of World War II |
| Author | Michael Green | Publisher | Osprey Publishing |
| Published | 2018 | ISBN | 9781472829788 |
| Format | 376 pages, softbound | MSRP (USD) | $25.00 |
Review
If you missed the original 2014 hardbound edition at US$40.00, grab the new softbound release at nearly 60% of the original's MSRP.
The title tells it all.
American Tanks & AFVs of World War II from Osprey Publishing conveniently recaps key US prototype, test, and operational vehicles of the conflict.
Call it a one-volume subject summary – sans "paper projects".
Design. Development. And, where appropriate, deployment. Author Michael Green considers most main points – including prewar influences.
Coverage almost naturally begins where America leveraged its most productive production capacity and battlefield success: two chapters on medium tanks.
The first details early vehicles and antecedents – notably the M3 Lee/Grant range. The second covers one design: the legendary M4 Sherman. It's the book's bulkiest part.
Contents then segue to a chapter each on light tanks, heavy tanks, and tank destroyers. And four final sections subsequently showcase both tracked and wheeled AFVs:
Armored Cars
Armored Half-Tracks
Self-Propelled Artillery
Landing Vehicles, Tracked
Along the way, Green dutifully details engine, armor, armament, ammunition, production, suspension, cost, modifications, upgrades, and other key considerations.
Photos, profiles, sidebars, tables, and extended captions augment the account. A selected bibliography and index wrap things up.
But it's not annotated. So you're largely on your own matching text to sources for further study. Some artwork captions also reference end- and top-view markings. But with one exception, Green's study only includes side aspects – leaving readers guessing.
Finally, why use inappropriate and anachronistic phraseology like "user community"? Why not just say, for instance, "tankers" or "crew"?
Nevertheless, if you're seeking a one-volume précis on American WWII armor, grab Michael Green's compact compendium.
Recommended!
My sincere thanks to Osprey Publishing for this review sample!