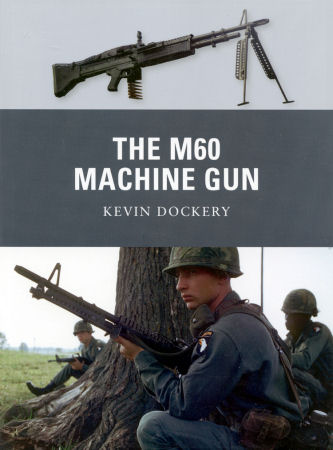 The M60 Machine Gun Book Review
| | | | |
| --- | --- | --- | --- |
| Date of Review | January 2013 | Title | The M60 Machine Gun |
| Author | Kevin Dockery | Publisher | Osprey Publishing |
| Published | 2012 | ISBN | 9781849088442 |
| Format | 80 pages, softbound | MSRP (USD) | $18.95 |
Review
The belt-fed M60 General Purpose Machine Gun – popularly called "the Pig" – aimed at arming the US military with a powerful, man-portable weapon for blistering assaults, rapid movement and robust support.
The iconic design saw extensive combat in Vietnam, Latin America and the Middle East – and, although nominally replaced by the M240 series in US infantry and mechanized units, still serves in diminishing numbers with US Navy and Coast Guard assets.
The M60 Machine Gun – the 20th installment in Osprey's excellent "Weapon" titles – recaps the total tale.  Author Dockery recounts system lineage, design, feed, mounts, modifications, personnel training and operational service.
Notes on "chopped" versions for special operations, adaptations for aerial use and M60s for riverine combat proved illuminating.  I especially enjoyed notes on the development of helicopter machine-gun mounts.  Eliminating the glut of jury-rigged systems, Dockery notes, principally propelled the US Army toward dedicated helicopter armament.
Photos, captions, charts, sidebars, drawings and sectionals augment this entertaining effort.  A selected bibliography, index and at least one annotation (!) supplement text.
"The day of the Pig," Dockery concludes, "has not yet ended."  Today, despite lingering concerns over weight and reliability, the M60 continues serving with allied and friendly nations worldwide.  Make this little book your introduction to further study of this iconic weapon.
Recommended.
My sincere thanks to Osprey Publishing for this review sample!