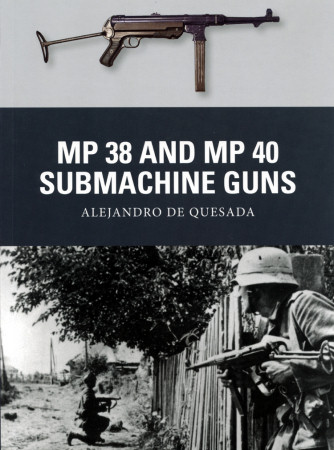 MP 38 and MP 40 Submachine Guns Book Review
| | | | |
| --- | --- | --- | --- |
| Date of Review | September 2014 | Title | MP 38 and MP 40 Submachine Guns |
| Author | Alejandro de Quesada | Publisher | Osprey Publishing |
| Published | 2014 | ISBN | 9781780963884 |
| Format | 80 pages, softbound | MSRP (USD) | $18.95 |
Review
You've seen both – countless times.  Especially in entertainment media: film, television.  Even toys and comics.
Nazi Germany's MP 38 and MP 40 submachine guns rank among World War II's most iconic infantry weapons.  Relatively compact, inexpensive and reliable, they served throughout the conflict – and, surprisingly, into the 21st century.
Now Alejandro de Quesada recaps their history and impact in his enormously informative MP 38 and MP 40 Submachine Guns – number 31 in the Osprey's growing "Weapon" series.
de Quesada brackets his account with introductory and concluding comments that place the MP 38 and MP 40 in cultural – as well as historical – contexts.
Core contents commence with notes on development – antecedents, variants, modifications, improvements, ammunition and accessories.  Text next turns to use – operation, combat history, production and contemporary designs.  And coverage concludes with an entertaining survey of MP 38/40 "impact" – wartime and postwar copies & derivatives, postwar service, and "non-military usage".
Photos, action paintings and cutaway views season Osprey's succinct study.  Extended captions, sidebars and biographies also augment the account.  Even toy and model MP 40 replicas merit mention!
Author de Quesada neatly wraps things up with a selected bibliography of print and web sources – and a robust index.  And the whole thing is annotated!
In the end, historical contexts mattered.  From WWII combat through Middle-East and Vietnam fighting to Balkan battles, survivors and derivatives of these legendary Nazi German SMGs saw service – cementing their impact.  Tour that history with Osprey's superb little survey.
Robustly recommended!
My sincere thanks to Osprey Publishing for this review sample!