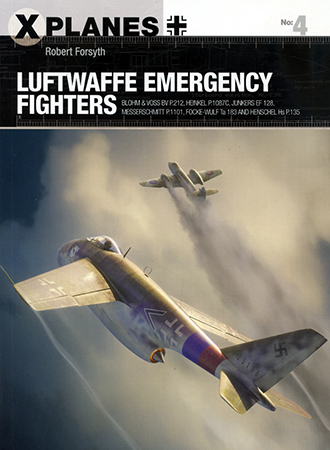 Luftwaffe Emergency Fighters Book Review
| | | | |
| --- | --- | --- | --- |
| Date of Review | July 2017 | Title | Luftwaffe Emergency Fighters |
| Author | Robert Forsyth | Publisher | Osprey Publishing |
| Published | 2017 | ISBN | 9781472819949 |
| Format | 88 pages, softbound | MSRP (USD) | $20.00 |
Review
Author Robert Forsyth examines some desperate measures Hitler took during Nazi Germany's death throes.
Liberally seasoned with fascinating facts, Luftwaffe Emergency Fighters – fourth in Osprey's new "X-Planes" series – surveys six stillborn Luftwaffe jet fighter projects:
Blohm & Voss BV P.212
Focke-Wulf Ta 183
Heinkel P.1087C
Junkers EF 128
Messerschmitt P.1101, and
Henschel Hs P.135
Contents commence with three informative background chapters. In its final days, the Third Reich pinned air-defense hopes on Messerschmitt's complex, twin-engine Me 262 – a technologically advanced, but expensive interceptor.
Enter innovative "Emergency Fighter" efforts. Optimized for higher performance and production efficiencies, they pushed the proverbial envelope on airframe, armament and powerplant designs.
But with the Reich's rapid demise, most remained "paper" projects. Only Messerschmitt's P.1101 achieved prototype status before Germany's inevitable collapse. And "there was," Forsyth notes in his assessment, "no clear winner of the Emergency Fighter 'competition'."
Key design and engineering elements, however, survived Hitler's defeat. And in an enlightening conclusion, Forsyth recaps the influence of "Emergency Fighter" lessons on postwar programs.
Nitpicks? I don't see an SC 500 bomb on p.33's Ta 183 cutaway. A 1945 color shot clearly shows RLM 74/75 on Messerschmitt P.1101 V1 wings – not RLM 82/83, as depicted on p.55's plan view. The prototype fuselage also appears in white or pale gray primer – not in aluminum. And what happened to those captured P.1101 documents in French hands?
This isn't a study of Nazi "Peoples' Fighter" projects, either. For those, turn to Forsyth's excellent He 162 Volksjäger Units – no 118 in Osprey's "Combat Aircraft" range.
B&W photos, extended captions, drawings, selected bibliography and index augment Osprey's account. Two action paintings and several superb color multi-views counterfactually cover schemes for modelers.
I loved Forsyth's pithy little précis. Make it your introduction to these spellbinding Luftwaffe stillborns.
Strongly recommended.
My sincere thanks to Osprey Publishing for this review sample!