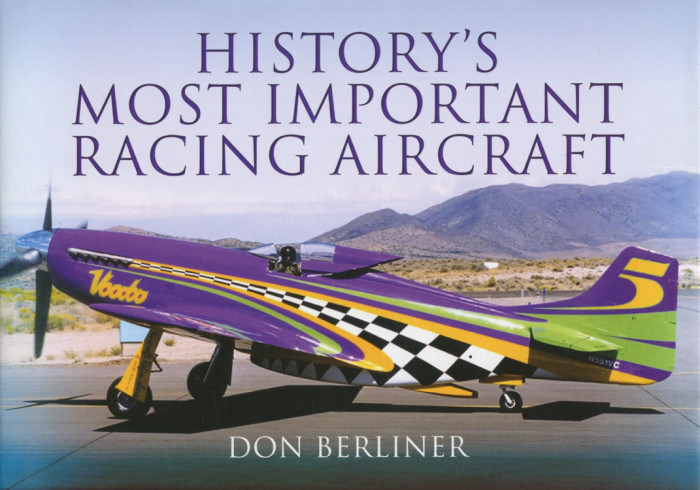 History's Most Important Racing Aircraft Book Review
| | | | |
| --- | --- | --- | --- |
| Date of Review | March 2014 | Title | History's Most Important Racing Aircraft |
| Author | Don Berliner | Publisher | Pen & Sword |
| Published | 2014 | ISBN | 9781781590720 |
| Format | 192 pages, hardbound | MSRP (USD) | $39.95 |
Review
Aircraft modelers!  Take a break from camouflage paint schemes and drab military liveries!
History's Most Important Racing Aircraft recaps the terrific tale of air racing through capsule case studies of dozens of milestone machines.
Contents course chronologically through all major events, eras and aircraft:
James Gordon Bennett Trophy
The Schneider Cup
The Pulitzer Trophy
Long Distance Races of the 1930s
Coupe Deutsch de la Muerthe
"Other European Racers"
Pre-War U.S. National Air Races
Post-War Cleveland National Air Races
The Reno Air Races
Air racing popularized aviation and air travel.  It fostered aircraft engineering and design innovations.  And it promoted production and propulsion progress.
Like many countries, The United States, the author notes, "decided closed-course racing would be a very good way to test advanced design concepts and to draw attention to the country's need for a more modern Air Force."
Racing also attracted entrepreneurs and adventurers with dozens of one-off designs.  Pioneering and pedestrian.  Familiar and fantastic.  Courageous and commonplace.  This little book distills the whole history, aircraft-by-aircraft.
Like the Bleriot XI – the world's first production aircraft.  The Piaggio-Pegna Pc.7 – a seaplane with hydrofoils instead of floats.  The Crosby CR-4 – with advanced stressed metal-skin construction and flush riveting.  The Pack Grey Ghost – with a diminutive 13' wingspan.  The minuscule Mahoney Sorceress – a bizarrely beautiful biplane with reverse stagger.  And that Amsoil-Rutan Racer or Sharp Nemesis Next – wow!
Of course, P-51 and T-6 variants – perennial postwar participants – also appear.  And every sort of race.  Closed-course pylon.  Cross-country.  Long-distance.  Trans-oceanic.  Even "ladies" events.
It's peppered with air racing's principal personalities, too.  Curtiss.  Laird.  Doolittle.  Cochran.  The Granville brothers.  Even Mussolini.  They're all here.
Entries include each aircraft's capsule history, length, wingspan, powerplant and color scheme.  At least one photo – most in B&W, some in color – accompanies most descriptions.
So grab Hawk/Testors' 1:48 Travel Air Mystery ship.  Or William Brothers' 1:32 Wedell Williams.  Or Airfix's 1:72 dH.88 Comet.  Or conjure some scratch-building or kit-bashing magic.  And let this cool compendium inspire your next model project!
Recommended!
With thanks to Casemate for the review copy.