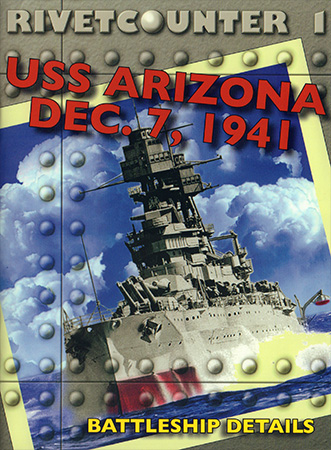 USS Arizona Dec. 7, 1941 Book Review
| | | | |
| --- | --- | --- | --- |
| Date of Review | November 2016 | Title | USS Arizona Dec. 7, 1941 |
| Author | Burl Burlingame | Publisher | Pacific Monograph |
| Published | 2012 | ISBN | 9780962922756 |
| Format | 64 pages, softbound | MSRP (USD) | $7.95 |
Review
There are a variety of scale models produced of the USS Arizona, the Pennsylvania-class battleship that was built during the First World War and served as one of many battleships assigned to the US Navy's Pacific Fleet. What distinguishes this battleship over many others from World War II was its untimely fate. Anchored on Battleship Row at Pearl Harbor on the 7th of December 1941, the Arizona was struck with bombs and torpedoes as were the other capital ships, but one weapon hit at a critical point on the Arizona which resulted in a catastrophic explosion that broke its back and killed over 1,000 sailors in an instant. The remains of the Arizona remain on the bottom of Pearl Harbor where they sank with a memorial above to honor those lost in Japan's surprise attack.
With the variety of kits 'out there' of this battleship, there is surprising little information about how this ship appeared on that day. When the National Park Service commissioned a 1/96 scale model of the USS Arizona for its memorial display, master modeler Don Preul was given the job of reconstructing history. Armed with plans and the latest research, Don Preul built a highly-detailed model which replicates the Arizona down to the rivets.
Author Burl Burlingame selected well over 100 close-up black and white photos of this model to produce this 'Rivet Counter' title of the USS Arizona to assist modelers with their own scale projects. Each photo is captioned to explain what you're seeing including real-world contexts to understand why given details are there.
What is also nice is the color information which explains how the Arizona appeared (Measure 1) before being repainted and the rarely seen (in models) red turret tops to signify its battleship division and air division status. This title also shows the absence of the aircraft and the placement of the tarp covers fore, aft, and amidships as the ship was configured that fateful morning.
If you want a handy monograph to assist with your USS Arizona project, this title is inexpensive and available at the publisher's website (link below).
My sincere thanks to Pacific Monograph for this review sample!