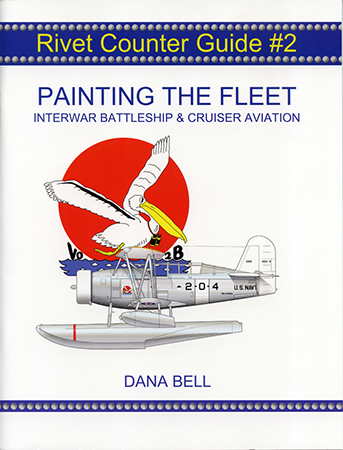 Painting the Fleet: Interwar Battleship and Cruiser Aviation Book Review
| | | | |
| --- | --- | --- | --- |
| Date of Review | August 2023 | Title | Painting the Fleet: Interwar Battleship and Cruiser Aviation |
| Author | Dana Bell | Publisher | Rivet Counter Guides Publications |
| Published | 2023 | ISBN | 979-8218121570 |
| Format | 72 pages, softbound | MSRP (USD) | $29.95 (plus shipping) |
Review
Leveraging rare, archival sources, historian Dana Bell tackles a colorful, but oft-neglected topic in Painting the Fleet: Interwar Battleship and Cruiser Aviation – second in the author's growing "Rivet Counter Guide" range, available from Amazon and eBay.
Aircraft modelers – especially US Navy "Golden Age" markings mavens – will love it. Contents span 25 lavishly illustrated sections across 72 pithy pages:
Experiments
Launch and recovery
Basic colors
SOC wings
Basic markings
Serials & Unit markings
Flagplanes
Asiatic Fleet
Battleship aircraft colors
BatDiv One
BatDiv Two
BatDiv Three
BatDiv Four
BatDiv Five & Six
Cruiser aircraft colors
CruDiv Two
CruDiv Three
CruDiv Four
CruDiv Five
CruDiv Six
CruDiv Seven
CruDiv Eight
CruDiv Nine
Tail Colors
Squadron insignia
The breadth and depth of detail proved outstanding – hence, understandably, the series name. Every page authoritatively illumines the markings of USN shipborne, chiefly catapult-launched aircraft, including experimental liveries.
Revelations certainly abound. Did you know that interbellum wing chevrons on USN battleship and cruiser aircraft officially sported different widths? I didn't, either.
Period B&W and color photos season the superb study. And color plates by author Bell and Tom Tullis include profiles, plan views, unit badges, inset details, markings variations, and more.
Finally, a separate insert contains a glossary that appears applicable to more USN "Rivet Counter" titles. Let's hope I'm right.
Grab this page-turner. It belongs in every "Golden Age" USN library.
Robustly recommended!
My thanks to Dana Bell for the review copy!