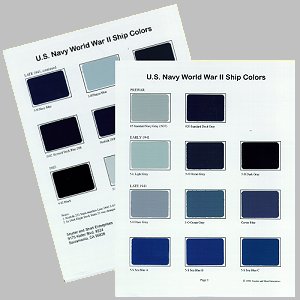 US Navy World War II Ship Colors, Set #1 Review
| | | | |
| --- | --- | --- | --- |
| Date of Review | 1999 | Title | US Navy World War II Ship Colors, Set #1 |
| Publisher | Snyder & Short | Format | Paint chips on heavy card stock |
| MSRP (USD) | $18.00 | | |
Review
A new team of IPMS'ers are working together to fill another information void for the ship modeler. John Snyder and Randy Short set out to find paint chips for WWII US Warships. This has definitely been an area needing attention!
Up until now, we modelers have had WWII Luftwaffe paint chips, contemporary Federal Standard paint chips and a few other topical color standards to work from, but nothing definitive for WWII US warships. I've had visions of building the USS Missouri in its Measure 22 scheme as depicted in Squadron/Signal's US Battleships in Action (Part 2), and was impressed with the color breakouts on page 2 for Measure 22 (as well as the other camouflage schemes depicted in the book). The only problem was - what the heck is Navy Blue 5-N?
John and Randy have researched and published the answers! They have developed a new series of paint chip pages matched against official Navy Yard chips when available, or against the 1929 Munsell Book of Color (USN Spec) when chips were not available.
In this first installment, they've produced two pages with 20 paint chips (and make no mistake, these are actual paint chips!) which cover the greys and blues used from the immediate pre-war period through early 1945. Included in this mix are two carrier flight deck stain colors and three deck colors.
They plan two additional releases in the near future. Set two will cover USN neutral grays, greens and browns. Set three will cover the Royal Navy in WWII (27 colors). Future sets being considered include the Kriegsmarine, Italian and Japanese warship colors.
These paint chips are a must-have for the warship modeler. They fill a significant void in the color references and I am looking forward to the next installments! I will share the releases with you as they become available.
You may order your chip sets in the US from Pacific Front Hobbies, Floating Drydock, The Modeler's Boatyard, Colpar Hobbies, Research In Scale, Antheil Booksellers, and Accurate Image Models; in Germany from Christian Schmidt; and in the UK from White Ensign Models; or directly from the author/publishers at www.shipcamouflage.com.
My sincere thanks to Snyder & Short Enterprises for this sample!