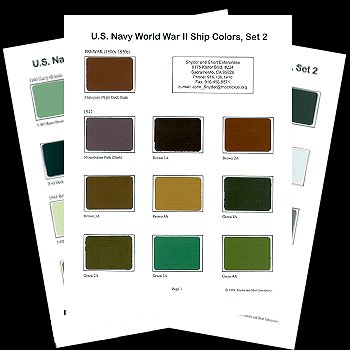 US Navy World War II Ship Colors, Set #2 Review
| | | | |
| --- | --- | --- | --- |
| Date of Review | 1999 | Title | US Navy World War II Ship Colors, Set #2 |
| Publisher | Snyder & Short | Format | Paint chips on heavy card stock |
| MSRP (USD) | $25.00 | | |
Review
Snyder & Short Enterprises have released the second in their series of WW2 Naval Paint Chips. The first set, also reviewed here in an earlier article, focused on 20 paint chips of greys and blues. The chips were mounted on two pages of heavy card stock. This second installment covers 30 paint chips mounted on three pages. This installment covers the browns and greens used by the US Navy prior to and during WW2, as well as some additional greys not covered in the first installment.
The first color chip features the flight deck stain used on USN fleet carriers during the 1920s and 1930s. The color notations accompanying these chips are the same notations found in the better warship camouflage references and will make the application of the more interesting camoflage schemes easier because you'll finally be able to see the color they really meant!
These paint chips are a must-have for the warship modeler. They fill a significant void in the color references and I am looking forward to the next installments! I will continue to share future releases with you as they become available.
You may order your chip sets in the US from Pacific Front Hobbies, Floating Drydock, The Modeler's Boatyard, Colpar Hobbies, Research In Scale, Antheil Booksellers, and Accurate Image Models; in Germany from Christian Schmidt; and in the UK from White Ensign Models; or directly from the author/publishers at www.shipcamouflage.com.
My sincere thanks to Snyder & Short Enterprises for this sample!