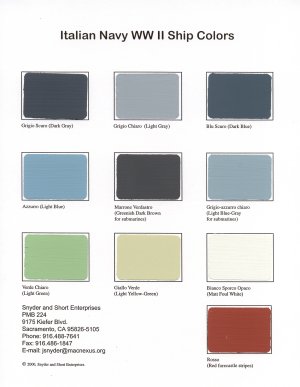 Italian Navy World War II Ship Colors Review
| | | | |
| --- | --- | --- | --- |
| Date of Review | 1999 | Title | Italian Navy World War II Ship Colors |
| Publisher | Snyder & Short | Format | Paint chips on heavy card stock |
| MSRP (USD) | $14.00 | | |
Review
Snyder & Short Enterprises continues to produce some amazing color references from their research. In this sixth release, they cover yet another area poorly documented (at least on this side of the Atlantic) - the colors used by Italian Navy warships during World War 2.
This set come on one sheet, with a total of 10 paint chips. The good news is that the Italian Navy evidently had some standardization in their color controls, as the full range of colors is represented with these 10 chips. As always, the paint chips are actual paint affixed to high quality, heavy print stock.
These paint chips continue to be a must-have for the warship modeler, as they fill a significant void in the color references! I will continue to share future releases with you as they become available.
You may order your chip sets in the US from Pacific Front Hobbies, Floating Drydock, The Modeler's Boatyard, Colpar Hobbies, Research In Scale, Antheil Booksellers, and Accurate Image Models; in Germany from Christian Schmidt; and in the UK from White Ensign Models; or directly from the author/publishers at www.shipcamouflage.com.
My sincere thanks to Snyder & Short Enterprises for this sample!