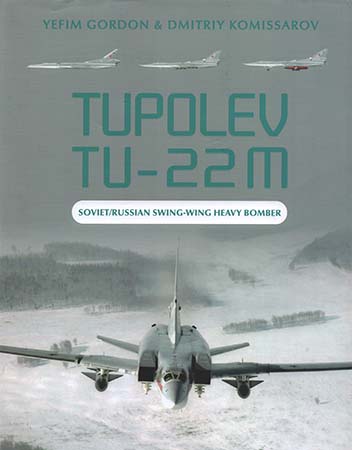 Tupolev Tu-22M Book Review
| | | | |
| --- | --- | --- | --- |
| Date of Review | September 2022 | Title | Tupolev Tu-22M |
| Author | Yefim Gordon, Dmitriy Komissarov | Publisher | Schiffer Publishing Ltd. |
| Published | 2022 | ISBN | 978-0-7643-6354-2 |
| Format | 336 pages, hardbound | MSRP (USD) | $64.99 |
Review
Here is another interesting title from the writing duo Yefim Gordon and Dmitriy Komissarov, this time covering the 'so called' Tu-22M (NATO Codename: Backfire). You see, the Russians had developed the Tu-22 series of bombers which featured a swept-back wing, two afterburning engines mounted on either side of the vertical stabilizer, and a crew of three. These Tu-22s (NATO Codename: Blinder) were barely supersonic as they could only sustain supersonic flight in short stretches, but were otherwise effective medium bombers. The Tu-22KD could even air refuel. As the Russians watched their western counterparts continue the development of their own medium bombers, Tupolev was tasked with developing a new generation to replace the Blinders. After a variety of designs were considered, a new family of medium bombers emerged with variable geometry wings and two afterburning engies buried inside the fuselage. While word of these new bombers was starting to spread in the west, the Soviets were supposedly calling these new aircraft Tu-26. The problem they faced was compliance with the various strategic arms limitation treaties which didn't permit new bombers to be developed, but upgrades to existing bombers were allowed, the Tu-22M was born.
The Tu-22M had nothing in common with its Tu-22 predecessor (not even the wheels lug nuts), but the Russians stuck with the Tu-22M designator and the west turned a blind eye to the deed. Want to know what the differences are between the Tu-22M, Tu-22M1, Tu-22M2, Tu-22M3 and Tu-22M4 are? The answers are in this well-documented and illustrated title.
Did you know that the Ukrainian Air Force operated a number of Tu-22M types? Not only will you see photos of these aircraft, the appendices have their serial numbers listed as well.
The authors not only provide development details of these aircraft, they also provide operational coverage of the Backfires in peacetime and at war. They even provide and in-depth photo walk arounds of the production variants, both inside their cockpits as well as all around the exteriors and including weapons carriage. Coverage includes:
From Blinder to Backfire or 'M' is for Misinformation
The Tu-22M Becomes Reality
The Backfire in Production
The Tu-22M in Detail
Peacetime Service
Tu-22M at War
Whether you're an aviation historian or a Backfire enthusiast, this is the ultimate title on the subject. Scale modelers will also want to have this handy reference with the great detail photos and references on weapons loads as well. Definitely recommended!