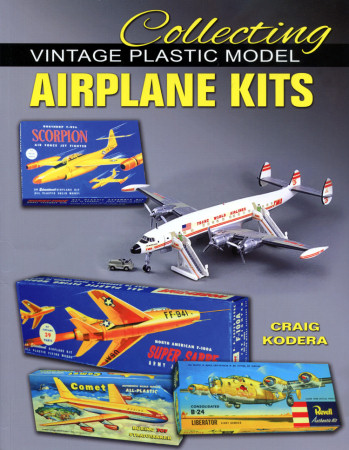 Collecting Vintage Plastic Model Airplane Kits Book Review
| | | | |
| --- | --- | --- | --- |
| Date of Review | November 2014 | Title | Collecting Vintage Plastic Model Airplane Kits |
| Author | Craig Kodera | Publisher | Specialty Press |
| Published | 2014 | ISBN | 9781580072236 |
| Format | 128 pages, softbound | MSRP (USD) | $24.95 |
Review
Take a trip in the Wayback Machine with the enormously engaging Collecting Vintage Plastic Model Airplane Kits from Specialty Press.
Along the way, you might just exclaim, "I had one of these!"  Or "I always wanted one of those!"  Or almost certainly, "I wish I kept that!" – as, in my case, that 5-kit Lindberg "Space Ships of the Future" assortment on page 67!
After Mike Machat's stage-setting forward, author Craig Kodera passionately pursues his topic in nine lavishly illustrated chapters:
Knowing Your Model Kit Companies
Why We Collect
Selling the Plastic
A Visit to the Hobby Shop
Gift Sets Versus Singles
The Space Age
Rarest of the Rare
The British Are Coming
Pricing in General
From Allyn "ashtray" items to ITC motorized models and Revell "whip fly" kits to esoteric European imports, Kodera surveys his subject in evocative and entertaining fashion.  But expect no "Millennial" perspective: text targets Baby Boomers who first cut plastic in the 1950s and 1960s.
And as the title suggests, consider this a focused fragment of all vintage scale.  Only aircraft and space ships – no ships.  And no vehicles – except those originally boxed with plane or rocket kits.  Moreover, reckon the rarities you see just a partial picture of the remarkable rarae aves from plastic modeling's early days.
Advertising, marketing and merchandising play prominent parts.  Coverage showcases, four instance, the work of artists like Jo Kotula, Jack Leynnwood and Richard Kishady.  Their dynamic action paintings graced box-tops of the period – and probably propelled countless youthful purchases!
Surprises abound, too.  An all-female team, for instance, produced promotional build-ups at Revell.  "It took nine women to create one model," Kodera reveals. "Each had her own station and responsibilities, such as assembly, spray painting, decaling, etc."  And the author confirms his contention with a portrait of the whole pulchritudinous party!
Gripes?  Some.
Aurora erroneously called that "T-tail version of the Soviet MiG-15" a "Yak-25" in "Brooklyn" packaging – and, later, "MiG-19".  And, honestly, pop psychology appears awkwardly improper in this enjoyable little effort.  Why ponder, for instance, whether men "who have an unfulfilled need for a father figure in their lives turn to collecting to fill that need"?  Fill that space with hobby history – not Freudian fancy!
I would have also preferred more examples of vintage box art to the page of recent Rusty Cowart illustrations.  Why reproduce the Frog Bristol Bloodhound box twice?  Put another period painting into one of those spots.  And how about more on the maturing industry's move from "box-" to "constant-scale" products?
Also, while Aurora and Revell styrene cement merits mention, corresponding tubes from Testors – always the world's largest hobby adhesives manufacturer – remain conspicuously absent.  Ditto for modeling mainstays Pactra and, except for one tiny tangent, Testors paint.
The author also – and perhaps understandably – avoids recent reissues of rare items.  So don't expect mention of, say, Glencoe's re-boxings of Strombecker's RM-1 and TWA "Moonliner" space ships.  They're just not germane.  Yet if you want those build-ups on your shelf, re-releases inevitably remain cheaper options.
But, hey, I quibble.  What a cool, colorful compendium.  Hundreds of photos flavor this fun-fest.  Let's hope Kodera produces a sequel – or two!
Robustly recommended!