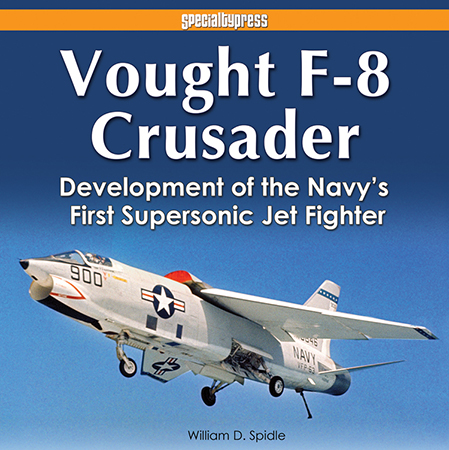 Vought F-8 Crusader Book Review
| | | | |
| --- | --- | --- | --- |
| Date of Review | August 2017 | Title | Vought F-8 Crusader |
| Author | Bill Spidle | Publisher | Specialty Press |
| Published | 2017 | ISBN | 9781580072588 |
| Format | 230 pages, hardbound | MSRP (USD) | $44.95 |
Review
Subtitle of Vought F-8 Crusader says it all: "Development of the Navy's First Supersonic Jet Fighter".
So don't expect an operational history of the celebrated Cold War combatant. Specialty Press' lavishly illustrated volume instead targets the inception, evolution and variants of the US Navy's legendary last "gunfighter".
Author Bill Spidle kick-starts contents with background notes on earlier Chance Vought warplane designs – antecedents to the F8U/F-8.
Spidle's study quickly segues to a fascinating section on Crusader design and development. Airframe. Propulsion. Armament. Controls. Materials. You name it: it's here.
Text next turns to three chapters on initial F-8 testing and service:
First Flights
F8U-1: The Crusade Begins
Fleet Introduction and Record Flights
How about that emergency escape "flight capsule"?
Coverage continues with F-8 variants – F8U-1T, F8U-2 (Crusader II), international F-8s, and F8U-3 (Crusader III). "Modernization" and stillborn studies follow. The V-1000 "International Fighter" and V-456/V-463 "Attack Crusader" proposals proved particularly provocative. And NASA use wraps things up.
Vought F-8 Crusader comes packed with plenty of pretty pictures. Hundreds of archival photos and drawings – many previously unpublished – spice Spidle's sumptuous study. Modelers will certainly appreciate the aircraft details. Tables, extended captions and specifications also augment the account.
Quibbles?
Was Crusader really "the Navy's First Supersonic Jet Fighter"?
That's disputable. Initially flown in 1951, Douglas' F4D (F-6) Skyray forged fame as the first US Navy fighter to exceed Mach 1 in level flight. Both it and Grumman's supersonic F11F (F-11) Tiger beat Vought's F-8 into service, too.
You judge.
This book also needs a glossary. Bibliographic notes on Chance Vought corporate sources in endnotes would have been nice. And Spidle's index proved, I thought, somewhat anemic.
Still, I really enjoyed Specialty Press' informative, entertaining effort. It capably and competently recaps the vital "back story" of Vought's renowned warrior.
Recommended.
My sincere thanks to Specialty Press for this review sample!