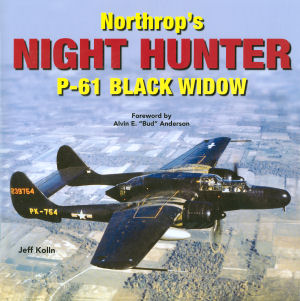 Northrop's Night Hunter P-61 Black Widow Book Review
| | | | |
| --- | --- | --- | --- |
| Date of Review | November 2008 | Title | Northrop's Night Hunter - P-61 Black Widow |
| Author | Jeff Kolln | Publisher | Specialty Press |
| Published | 2008 | ISBN | 978-1-58007-122-2 |
| Format | 198 pages, hardbound | MSRP (USD) | $39.95 |
Review
Here is a new title from Specialty Press that just landed on store shelves. This is a nicely compiled history of the Northrop P-61 Black Widow, covering its development, variants, operational history, and even individual histories of each aircraft built! The title is very well illustrated and puts this aircraft into perspective.
The author has compiled an impressive array of photos of the aircraft in various stages of construction, maintenance, and in operations. These include three pages of color photographs from World War II and one additional page of color shots of the three surviving examples. There are lots of nice shots of variety of nose art applied to this aircraft. There are quite a few detail shots in and around the airframe that help to illustrate the differences between the P-61 variants. In addition, the author has provided many drawings and illustrations from the Northrop (and Goodyear) pilot and operator manuals that show even more detail than are visible in the photographs. The illustrations are rounded out with 28 color profiles produced by Internet Modeler's publisher Chris Banyai-Riepl.
Coverage of this title includes:
The Early Era of Night Fighting
P-61 and F-15 Variants
Inside the Black Widow
Zone of the Interior
Fighting the Luftwaffe
Black Widows in the Pacific
China, Burma, and the India
Navy and Marine Widows
Project Thunderstorm and NACA
Surviving Black Widows
Chronology
Individual Aircraft Histories
Did you notice the Navy and Marine Widows? The Navy was looking for a land-based night fighter and had signed on with the USAAC for the Black Widow, however the development delays allowed Grumman to develop the F7F Tigercat and the Navy opted out of using the Black Widow operationally. Nevertheless, a number of P-61Bs were delivered and used as training airframes, designated as the F2T-1.
This is one of the nicest titles I've seen on this aircraft and it packs alot of information into its 198 pages. The historian will enjoy not only the operational summaries of the aircraft, but also the individual aircraft histories and each aircraft's fate. The modeler will also really appreciate the detail and references to be able to render the P-61 beautifully in scale. This title has all the right images and drawings you'll need.
Highly Recommended!