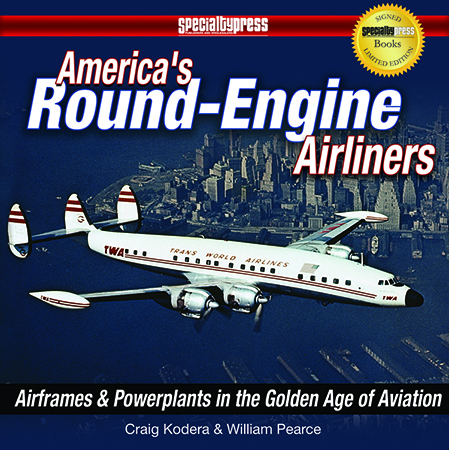 America's Round-Engine Airliners Book Review
| | | | |
| --- | --- | --- | --- |
| Date of Review | April 2019 | Title | America's Round-Engine Airliners |
| Author | Craig Kodera, William Pearce | Publisher | Specialty Press |
| Published | 2019 | ISBN | 9781580072649 |
| Format | 300 pages, hardbound | MSRP (USD) | $46.95 |
Review
Round in cross-section, reliable, reciprocating radial engines literally propelled American air travel from frail, fabric-and-wood airframes to fast, safe, all-metal designs – cementing U.S. leadership in the field.
That's the premise of America's Round-Engine Airliners from Specialty Press.
The subtitle – "Airframes & Powerplants in the Golden Age of Aviation" – tells it all. Authors Craig Kodera and William Pearce traverse the terrific, transitional tale in nine picture-packed chapters:
From Inline to Round
One Wing, Two Engines, All Metal
Presenting the Ship as an Airplane
Landplanes Become Viable Contenders
Expanding the Envelope
Some Serious Air Transports
Shrinking the Envelope
The Big Time
Twilight of the Goddesses
Call this compendium "multi-dimensional": part aerodynamic, part engineering, part technical, part mechanical, even part cultural – but all informative and entirely entertaining.
Each chapter divides into Kodera's "Getting There By Air" and Pearce's "Hardware on the Wing" sections. You'll easily see why.
Hundreds of illustrations – color and B&W shots, archival images, drawings, close-ups, exploded views, memorabilia, and more – season the saga. Sidebars and explanatory captions further complement commentary. And a selected bibliography and index complete contents.
It's full of fascinating facts, too. Thanks to revolutionary American designs like Douglas' DC-3, for instance, total U.S. airline passengers "increased nearly ninefold, to more than 4 million" between 1934 and 1940 – just six years.
Kodera and Pearce's splendid study nicely surveys the maturation of American commercial flight. And it's a cool, colorful introduction to the roots of today's international air-transportation system.
I thoroughly enjoyed it.
But were engine nacelles really "rather perpendicular to the swept leading edge" of the DC-4E wing?
With thanks to Specialty Press for the review copy.