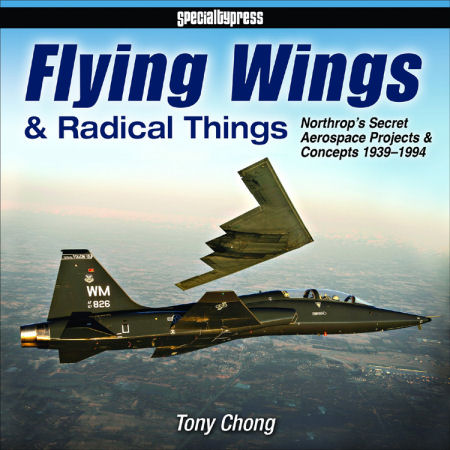 Flying Wings and Radical Things Book Review
| | | | |
| --- | --- | --- | --- |
| Date of Review | August 2016 | Title | Flying Wings and Radical Things |
| Author | Tony Chong | Publisher | Specialty Press |
| Published | 2016 | ISBN | 9781580072298 |
| Format | 278 pages, softbound | MSRP (USD) | $44.95 |
Review
Measure-out 55 years. Add a heaping helping of rare photos. Liberally season with rare, previously unpublished drawings. Stir in a pinch of promotional paintings.
That's Tony Chong's recipe for his spectacular new study from Specialty Press, Flying Wings & Radical Things: Northrop's Secret Aerospace Projects & Concepts 1939-1994.
And what a ripping read it is.
Chong's admirably annotated, indexed effort recaps Northrop's innovative endeavors in dazzling detail.  Painstakingly researched, with over 400 B&W and color photos, dozens of drawings and charts, the book spans seven chunky chapters – and covers literally hundreds of declassified design concepts, prototypes and production aircraft.
Virtually every page prompted jaw-dropping "Wows". Fighters. Bombers. Trainers. Transports. Proof-of-concept demonstrators. And more!
The many B-35/B-49 flying wing project variants, for instance, proved utterly riveting. And I still can't believe the number of proposed F-5 iterations. But how about that incredible "TAB" – Truck-Airplane-Boat "Vericraft Triphibian"?
Inter-service rivalries certainly killed some promising – and astonishing – Northrop notions.
And not just on Earth. The remarkable N-205/ST-38 Spaceplane Trainer confirmed the amazing versatility of Northrop's Talon design. The N-212 and N-227 offer gripping glimpses into early manned space ballistic capsule designs. And the SLOMAR and HYLEAP spaceplanes confirmed the company's enterprising initiatives.
Specialty Press has certainly forged brilliant repute for terrific tomes like this. Treat yourself to loads of fascinating, futuristic fun – and get Tony Chong'scaptivating compendium.
But hey … with his vast archival resources, maybe author Chong will eventually offer the ultimate account of Northrop's legendary F-5/T-38 family?
How about it, Specialty Press?
Rabidly recommended!
My sincere thanks to Specialty Press for this review sample!