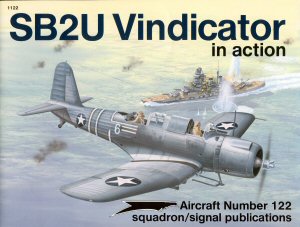 SB2U Vindicator in Action Book Review
| | | | |
| --- | --- | --- | --- |
| Date of Review | July 2005 | Title | SB2U Vindicator in Action |
| Author | Tom Doll | Publisher | Squadron/Signal Publications |
| Published | 1992 | ISBN | 0-89747-274-8 |
| Format | 50 pages, softbound | MSRP (USD) | $9.95 |
Review
This title has been around since 1992, but I thought that it would be worth a look with the release of the Accurate Miniatures SB2U Vindicator kits. In fact, with the exception of this nice 'in action' book, there is very little available about this unique aircraft in print.
The author starts his coverage of the Vindicator with the initial prototypes, and in keeping with the standard format of this series, the author provides scrap drawings to illustrate the visible differences between the current version under discussion and its predecessor.
The title features numerous nice black and white photos of the aircraft during production, during pre-war operations (yellow wings) and during the early days of World War II. In fact, these photos will make it quite easy to select a particular aircraft and detail it appropriately.
Starting with coverage of the SB2U-2, there are some good photos of the front and rear cockpit areas. If you're modeling the SB2U-1, don't worry. According to the author, the only significant differences between the SB2U-1 and SB2U-2 will be the bureau numbers and the model number on the tail.
In addition to standard fleet operations, the author has collected the models and BuNos for a number of Vindicators that were used as utility aircraft in a number of fighter squadrons!
If you're wanting to build something not quite out of the box, the coverage of the SB2U-3 begins with the early floatplane version that was not adopted for production.
Coverage also includes the V-156-F version which was the Vindicator in French service as well as the Chesapeake which was the aircraft in Royal Navy service.
The author provides some addition nice information, including a look at the manual wing fold system, operations at Midway, and a nice timeline of service by squadron between 1937 and 1943, which helps to significantly unravel who was who with all of the squadron swapping and renumbering during 1939-1940.
You're definitely going to want this title on your workbench when your Vindicator kit arrives!