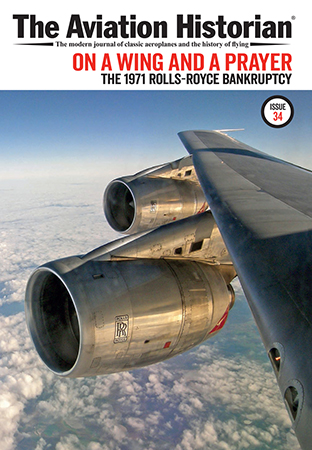 The Aviation Historian (No.34) Book Review
| | | | |
| --- | --- | --- | --- |
| Date of Review | May 2021 | Title | The Aviation Historian (No.34) |
| Author | multiple | Publisher | Scale Publications |
| Published | 2021 | ISBN | n/a |
| Format | 130 pages, softbound | MSRP (USD) | $19.99 |
Review
I should have pinpointed 1941's East Africa campaign as the birthplace of WWII's "cab rank" tactics of orbiting close support aircraft for Allied ground operations.
And I should have grasped the enduring value – even in the mid-1970s – of simple, rugged, T-28Ds to both COIN and conventional actions in Southeast Asia.
Those are just two insights from the informative, eclectic mix of features in issue 34 of The Aviation Historian:
"Collapse Of An Icon": the 1971 bankruptcy of Rolls-Royce
"Rover David": Part 1 on the development of RAF close-support capabilities in WWII
"Ces Hommes Magnifiques": early French pioneer Raymond D'Ecquevilly
"Decidedly Cosmopolitan": The UN's C-47 Squadron in the new Republic of the Congo in 1960
"The Short Tragic Life Of The Airship Roma": in Italy and the USA, 1922
"Czechoslovakia's Carefully Serving Airline": a capsule history of Czechoslovakia's CSA airline
"The Pale Blue Line": an ally in Korea
"Persia's Elephants": Iran's Boeing 747 transports and tankers
"BOAC & The Brabazon Committee": perspectives of airline and committee
"On The Wings Of The Hansa": Part 2 of Albert Grandolini's three-part series on Cambodia's Major Su Sampong
"Every Home Should Have One": the ultimate "minimal aircraft" concept?
Lots of fascinating facts dominate details.
Michael Napier, for instance, tells the terrific, seldom-told tale of British combat pilots with USAF and RAAF air forces in Korea.
And Maurice Wickstead's case study of Czechoslovakia's national airline ČSA superbly summarizes the timeless domestic and international issues facing small, transnational air carriers.
Babak Taghvaee also recaps Boeing 747s in Iranian service – notably in the brazen, April 1981 attack on Iraq's H-3 airbase cluster. But did Iran's KC-747s really refuel F-4Es at just "200ft" [my italics]?
Finally, ever hear of a "hypersonic ramjet tip-rotor-powered VTOL personal transport"? Chris Gibson recaps a whacky 1957 Royal Aircraft Establishment concept.
Get copies directly from The Aviation Historian and, in North America, from distributor Kalmbach Publications.
Recommended!
My sincere thanks to The Aviation Historian for this review sample!