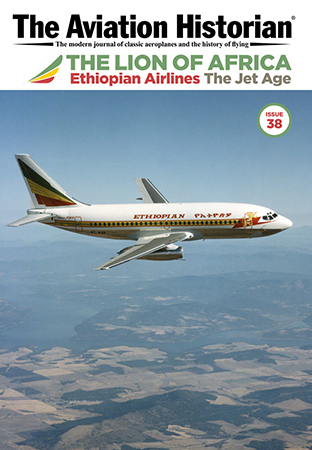 The Aviation Historian (No.38) Book Review
| | | | |
| --- | --- | --- | --- |
| Date of Review | April 2022 | Title | The Aviation Historian (No.38) |
| Author | multiple | Publisher | The Aviation Historian |
| Published | 2022 | ISBN | n/a |
| Format | 130 pages, softbound | MSRP (GBP) | £18.00 |
Review
How about a Beechcraft Bonanza COIN fighter with pod-mounted wing machine guns? Or a British-built Boeing B-29 with manned defensive turrets? Or a supersonic Supermarine Scimitar extrapolation?
Those are just three of the intriguing, informative, and illuminating features in number 38 of The Aviation Historian. Contents include:
AIRBUS INDUSTRIE: BRITAIN'S RETURN. Exploring the political background to the UK's return in 1978.
TRIAL & TERROR. France's unfortunate experimental naval jet fighters of the late 1940s.
THE FLYING FASHIONISTA. The little-known flying career of Ivy Hassard (née Pearce) – later the famous Australian fashion designer.
BRITISH-BUILT BRISTOL-ENGINED SUPERFORTS? Documents reveal wartime plans to manufacture Boeing B-29s in the UK.
RHODESIA'S BUSH EAGLES Pt 2. Second of two parts chronicling the Police Reserve Air Wing during Rhodesia's war against communist insurgents.
BRINGING AFRICA TOGETHER Pt 2. Concluding the saga of Ethiopian Air Lines, one of Africa's most successful carriers.
GOODYEAR'S TERRA CAMPAIGN. Recapping the fascinating, go-anywhere "Terra-Tires" for light aircraft.
SHARPENING THE SCIMITAR. Might a revamped Supermarine Scimitar compete against some of the West's finest fighters?
THE KING'S BREGUETS. The spellbinding story of Breguet 14s in Siamese service – until 1937!
THE CIA'S DEFECTION DECEPTION. The CIA's botched "defector" ploy during the Bay of Pigs invasion.
Leveraging pioneering research of American Alan Griffith, Clive Richards' piece on possible Boeing B-29 production in the UK proved utterly fascinating – and certainly whetted my appetite for the pending sequel on Convair B-32 manufacture there!
Equally intriguing, was Guy Ellis's feature on Rhodesia's militarized Police Reserve Air Wing civilian aircraft during guerilla fighting. Coverage eerily echoed the actions of U.S. Civil Air Patrol volunteers during WWII.
As usual, photos, drawings, maps, and extended captions augment articles. And editorial commentary, readers' letters, and book reviews enhance the effort.
Copies are available directly from The Aviation Historian.
Recommended!
My sincere thanks to The Aviation Historian for this review sample!