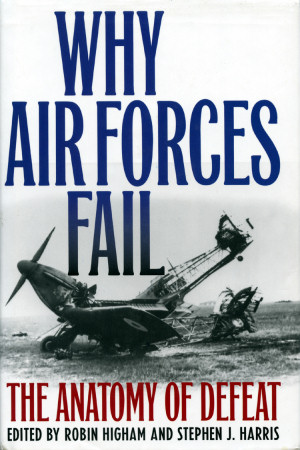 Why Air Forces Fail: The Anatomy of Defeat Book Review
| | | | |
| --- | --- | --- | --- |
| Date of Review | February 2014 | Title | Why Air Forces Fail: The Anatomy of Defeat |
| Author | Robin Higham, Stephen J. Harris | Publisher | The University Press of Kentucky |
| Published | 2006 | ISBN | 9780813123745 |
| Format | 382 pages, hardbound | MSRP (USD) | $41.95 |
Review
The title says it all.  Why Air Forces Fail: The Anatomy of Defeat includes eleven case studies of air power failures:
Poland: 1939
France: 1940
Arab Air Forces
Imperial Germany & Austria-Hungary: World War I
Italy: 1933-1943
Japan: World War II
Nazi Germany: 1935-1945
Argentina: 1982
Russia: WWI & WWII
USAAF: Pacific, 1941-1942
Royal Air Force: Norway, France, Greece & Malaysia, 1940-1942
After an introduction, individual chapters summarize history, doctrine, command structure, operations, combat performance and other salient factors.   Each also features a conclusion, suggestions for further research, and recommended reading.  And a final "Conclusion" recaps volume contents.  On balance, it's a useful introduction to the subject.
But sloppy, avoidable technical and nomenclature errors taint the reliability of some sections.  The Amiot 143 hardly compared "favorably with [sic: to] American Martin B-10 and Douglas B-18 bomber designs of the early 1930s."  That MiG-19 shot is really a Su-7.  It's "Kfir", not "Kifir".  Microscopic production numbers hardly make Argentina's IA 63 Pampa "popular".  And what the heck is a "Macchi G.50"?
While most parts prove pithy and provocative, length limitations possibly compromise some analyses.  Dwelling on France's misguided "BCR" effort, for instance, Anthony Christopher Cain fails to note the critical and corrective "B4" bomber program – of which LeO 45 and Amiot 350 derivatives remain the best known.  He also largely neglects the impacts of the Armée de l'Air's substantial US purchases – Curtiss Hawk 75s, Douglas DB-7s and Martin 167s.  Both omissions produce a partial picture of France's 1940 defeat.  And why include Pakistan and Iran in a chapter on "Arab" air forces?
Still, each case study's "suggestions for further research" implies that editors Robin Higham and Stephen J. Harris consider contents points of investigative departure, inviting readers on further analytical forays.
So if you're seeking a general etiology of air power failures, consider this handy tome.  But make it a springboard to further study.
Recommended – with reservations!