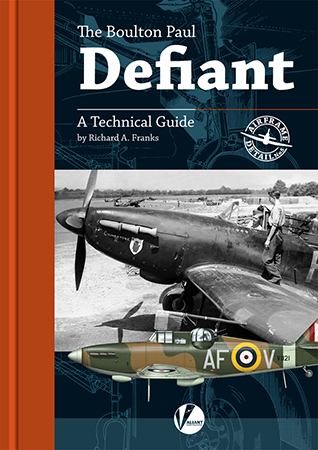 The Boulton-Paul Defiant Book Review
| | | | |
| --- | --- | --- | --- |
| Date of Review | November 2018 | Title | The Boulton-Paul Defiant |
| Author | Richard A. Franks | Publisher | Valiant Wings Publishing |
| Published | 2018 | ISBN | 978-0-9957773-6-1 |
| Format | 130 pages, softcover | MSRP (BP) | £12.95 |
Review
At a distance, the old myth goes, Luftwaffe pilots mistook it for the Hawker Hurricane during The Battle of Britain. But Jerry's aft attacks on the RAF fighter faced fierce fire from four, rear-mounted machine guns.
It was the Boulton-Paul Defiant. And now it's the titular subject of a "A Detailed Guide To The RAF's Turret Fighter" from Valiant Wings.
Fifth in the publisher's superb "Airframe Detail" range, coverage follows the familiar series format. And that means modelers will love it.
Contents commence with author Richard A. Franks' illuminating capsule history. There, you'll spot some of Defiant's surprising French, German, and American design connections – SAMM turret, VDM spinner, Lockheed hydraulics.
The innovative design garnered mixed results. No 141 Squadron, Franks reports, "viewed the Defiant as a deathtrap" – while more experienced No 264 Squadron, with its successful "defensive circle maneuver", waxed "enthusiastic".
Also used for night-fighter, training, target-towing, radar-countermeasures, and "experimental" duties, Defiants finally left front-line service by early 1943. Two were even employed for ejection-seat tests.
Valiant Wings' lavishly illustrated coverage then turns meaty for modelers with page after page of mouth-watering detail:
Technical Description – jaw-dropping Defiant minutiae
Camouflage & Markings – every aspect of Defiant livery
The first makes the book's "A Detailed Guide" subtitle a masterpiece of understatement. The second is sensational for model-project inspiration. And both come packed with plenty of pretty pictures.
Hundreds of them.
Like at least 41 profiles with multiple inset views by Richard J. Caruana – complete with authoritative camouflage & markings notes. Add Caruana's excellent 1:48-scale line drawings. And your modeling muse will run naked through hobby shops everywhere!
A subsequent section details Steve A. Evans' superb build of Airfix's 1:48-scale kit. And five appendices complete coverage:
Kits
Accessories & Masks
Decals
Defiant Production & Squadrons
Bibliography
Wow. Santa certainly came early with this magnificent monograph. I must've been a good boy!
With thanks to Valiant Wings Publishing for this review copy.