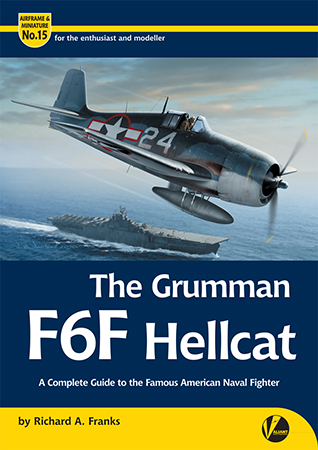 The Grumman F6F Hellcat Book Review
| | | | |
| --- | --- | --- | --- |
| Date of Review | July 2020 | Title | The Grumman F6F Hellcat |
| Author | Richard A Franks | Publisher | Valiant Wings Publishing |
| Published | 2020 | ISBN | 978-1-912932-11-5 |
| Format | 224 pages, softcover | MSRP (BP) | £22.95 |
Review
It scored 75% of US Navy air-to-air kills against Imperial Japan in WWII. It boasted a 19:1 claims-to-losses ratio during fighting. And it remained the sole mount of the conflict's top US Navy ace.
It was The Grumman F6F Hellcat. Now Valiant Wings chronicles the legendary warplane in the 15th edition of its outstanding "Airframe & Miniature" range.
Billed as "A Complete Guide To The Famous American Naval Fighter", coverage broadly divides into two intensely illuminating parts spanning 224 lavishly illustrated pages.
Author/editor Richard A. Franks kick-starts contents with over 90 pages of historical remarks, variant notes, and warpaint comments. Of the last, Richard J. Caruana's superb color plates – dozens of profiles, plan views, and insets – particularly promise plenty of potent project possibilities.
Lots of intriguing details accompany text, too.
How did F6Fs fare against the Luftwaffe in Europe? How about Hellcats with Malcolm hoods – or tip tanks? Or one with Sparrow AAMs? And how about insignia and stencil specifications? Look here.
That's the "airframe" part. "Mminiature" remarks follows with successive sections on:
Hellcat kits, including collectible items;
model builds in four scales by Libor Jekl, Steve A. Evans, and John Wilkes; and
F6F design evolution with chronologically arranged isometric drawings.
An eighth and final chapter explores the Hellcat "In Detail" – inside-out, prop-to-tail, top-to-bottom, tip-to-tip in mind-numbing minutiae.
Feed your AMS!
Four extensive appendices list kits, accessories, decals & masks, and references. And a glossary and pull-out 1:48-scale plans complete contents.
Nitpicks?
The Avenger's designation changed to "TBM" from "TBF" when General Motors assumed licensed production. V-J Day occurred 14 August 1945 – not ten days earlier. And USN Spec. SR-2c removed national insignia from the upper starboard and lower port wings – not the reverse. Oh, and the possessive of "it" is "its".
Quibbles and pedantry all!
Full disclosure: I was never a Hellcat fan – until now. Valiant Wings' meaty monograph opened vistas I never considered. And I loved it.
Now – please, Valiant Wings – how about a "prequel" on Grumman's Wildcat?
Roundly recommended!
With thanks to Valiant Wings Publishing for the review copy.