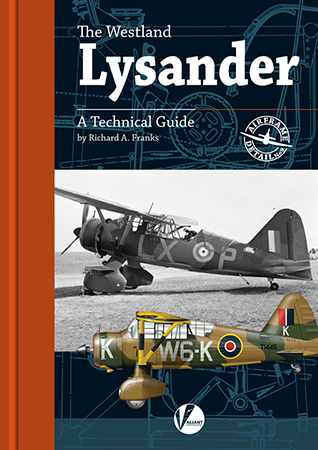 The Westland Lysander Book Review
| | | | |
| --- | --- | --- | --- |
| Date of Review | September 2020 | Title | The Westland Lysander |
| Author | Richard A. Franks | Publisher | Valiant Wings Publishing |
| Published | 2020 | ISBN | 978-1-912932-03-0 |
| Format | 114 pages, softcover | MSRP (BP) | £15.95 |
Review
Full disclosure: I adore the Westland Lysander. I worship its curvaceous contours. I long to bear its children.
Well, maybe not.
But literally for decades, I've sought a thorough, "one-stop" Lysander study simultaneously to sate my inner historian, enthusiast, and modeler.
And now that quest culminates in The Westland Lysander – A Technical Guide – ninth in Valiant Wings's terrific "Airframe Detail" range.
Coverage follows the publisher's familiar format.
Contents kick-start with a 24-page historical introduction and operational summary – then segue to a technical description and camouflage & markings commentary.
Author-editor Richard A. Franks surveys his subject with stunning scrutiny. And he dutifully recaps every variant – prototype, proposed, and production.
Army cooperation. Close-support. Target-towing. And, of course, special operations. How about those "anti-invasion" iterations with powered gun turrets?
Text traverses "Lizzie" in almost mind-numbing detail – nose to tail, top to bottom, inside and out. Cowlings, cockpits, and controls. Wings, weapons, and wheels.
Most of two pages, for instance, showcase empennage ballast lockers alone. How's that for feeding one's Advanced Modeler Syndrome?
The lavishly illustrated effort includes dozens of period photos, museum shots, close-ups, tech-manual excerpts, and scale drawings.
At least 56 color plates by Richard J. Caruana – profile, plan, and inset views – further season the study. And markings fans will love Caruana's one-stop, one-page insignia and stencil guide.
A subsequent section details Libor Jekl's striking build of Dora Wings' amazingly intricate, 1:72-scale kit. And four appendices complete coverage:
Kits
Accessories, Masks & Decals
Bibliography
Lysander squadrons
But France's armistice with Nazi Germany occurred 22 June 1940 – not 10 June. And what's the manufacturer's real name? "Westland"? "Westlands"? Or "Westland's"? All three appear.
Quibbles all.
Feed your inner historian, enthusiast, and modeler in one sumptuous sitting. Get this superb study.
Robustly recommended!
With thanks to Valiant Wings Publishing for this review copy.