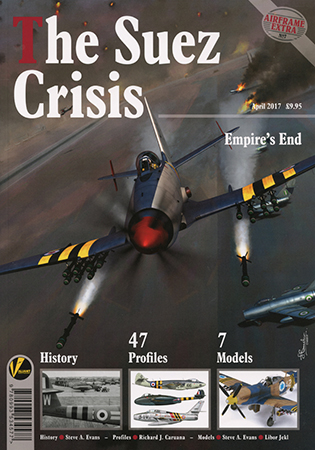 The Suez Crisis: Empire's End Book Review
| | | | |
| --- | --- | --- | --- |
| Date of Review | June 2017 | Title | The Suez Crisis: Empire's End |
| Author | Steve A. Evans | Publisher | Valiant Wings Publishing |
| Published | 2017 | ISBN | 978-0-9935345-7-7 |
| Format | 130 pages, softcover | MSRP (BP) | £9.95 |
Review
This year marks the 50th anniversary of Israel's Sinai conquest in the 1967 Six Day War.
But eleven years earlier, the Jewish state captured the Egyptian peninsula during The Suez Crisis: Empire's End – seventh in Valiant Wings' terrific "Airframe Extra" series.
Steve A. Evans kicks-starts contents with a day-by-day précis of the war. Purists and revisionists will nitpick victory claims. But Evans' businesslike brief correctly recaps events. Still, the UN General Assembly is in New York – not in Washington.
Text next turns seven model builds:
1:72 Egyptian Meteor F Mk 8
1:72 British FAA Sea Hawk Mk 6
1:72 Israeli Piper J-3 Cub
1:48 French RF-84F Thunderflash
1:72 Egyptian Il-28 Beagle
1:48 Israeli P-51D Mustang
1:48 Meteor RAF NF Mk 11/13
But most modelers, I suspect, buy Valiant Wings books for pretty pictures – not for polished prose. And this one is no exception.
Lots of B&W photos season the historical summary. Color shots dominate the superb modeling sections. And Richard J. Caruana adds at least 53 stunning color plates – including 47 profiles – for plentiful project inspiration.
How about that striking French F-84F of EC1/1 "Corse" in sham Israeli markings? Or those striped Wyvern S Mk 4s?
A handy "colour reference" table with hobby paint matches and approximates for RAF, FAA, French and Israeli camouflage completes coverage.
But why no selected bibliography for those seeking further study? And why no Egyptian warplane profiles?
But I quibble. Valiant Wings have certainly forged brilliant repute for inspirational gems like this. Use this terrific little tome for your next IPMS group build!
My sincere thanks to Valiant Wings Publishing for this review copy.