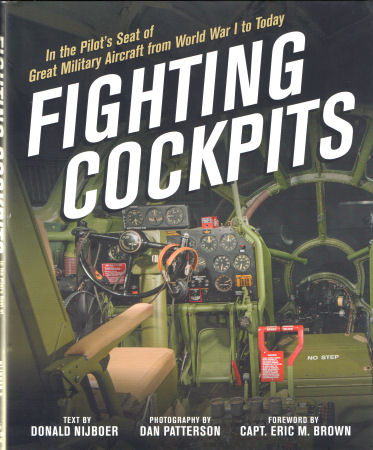 Fighting Cockpits Book Review
| | | | |
| --- | --- | --- | --- |
| Date of Review | July 2016 | Title | Fighting Cockpits |
| Author | Donald Nijboer | Publisher | Zenith Press/Quarto Publishing |
| Published | 2016 | ISBN | 978-0-7603-4956-4 |
| Format | 224 pages, softbound | MSRP (USD) | $40.00 |
Review
Here's a new title that will interest aviation enthusiasts and modelers alike. Entitled 'Fighting Cockpits', this book takes you on an aircraft technology tour through time to show how cockpits evolved with the capabilities of the aircraft and its mission systems. The author picks up the story with the French-built Nieuport 28 as this aircraft reflects the relative maturity of flight controls and their basic surrounding cockpits of the day. Prior to this point in time, there were numerous ways created for pitch/roll/yaw/engine control for the pilot before they began to standardize on the control yoke/column for pitch and roll control, rudder bar/pedals for yaw control, and one or more engine control levers on a left-side quadrant (single pilot aircraft) or central quadrant (multi-pilot aircraft).
The forward by the late Captain Eric Brown nicely summarizes how he and test pilots like him will size up a new (to them) aircraft by key external features, but the real assessment happens once seated in the cockpit. The author has broken the development of cockpits into four periods with a good summary of aviation development that puts the increasing complexity of these cockpits into perspective. Noted aviation photographer Dan Patterson provides some great images from aircraft in museums that illustrate the narrative. Take a look at the table of contents:
Introduction
World War I - Wind in the Wires

Nieuport 28
Royal Aircraft Factory S.E.5
Bristol F.2B
Fokker Dr.I
Sopwith Camel
Sopwith Triplane
AEG G.IV
SPAD VII
Halberstadt CL.IV
Fokker D.VII

Between the Wars - The Rise of the Monoplane

Martin MB-2
Hawker Hind
Fiat CR.32
Boeing P-26 Peashooter
Curtiss F9C Sparrowhawk
Vought SB2U Vindicator
Westland Lysander
PZL P.11

World War II - Death at 30,000 Feet

Supermarine Spitfire
Messerschmitt Bf 109
Republic P-47 Thunderbolt
North American P-51 Mustang
Handley Page Halifax
Vickers Wellington
Focke Wulf Fw 190 Wurger
Fairey Firefly
Fiat CR.42
Ilyushin Il-2 Sturmovik
Heinkel He 219 Uhu
Kawasaki Ki-45 Toryu
Curtiss SB2C Helldiver
Northrop P-61 Black Widow
Boeing B-17 Flying Fortress
Boeing B-29 Superfortress
Dornier Do 335 Pfeil
Messerchmitt Me 262 Schwalbe
Arado Ar 234 Blitz

Cold War to the Present - Mutually Assured Destruction

North American F-86 Sabre
Boeing B-52 Stratofortress
Grumman A-6 Intruder
General Dynamics F-111 Aardvark
Hawker Siddeley Harrier
McDonnel Douglas/Boeing F-15 Eagle
Grumman F-14 Tomcat
Fairchild Republic A-10 Thunderbolt II
General Dynamics/Lockheed Martin F-16 Fighting Falcon
Mikoyan MiG-29
Rockwell B-1B Lancer
Lockheed F-117 Nighthawk
Lockheed Martin F-22 Raptor
Lockheed Martin F-35 Lightning II Joint Strike Fighter
One of the advantages of using museum aircraft for works like this is simple access to subjects not available elsewhere. There was one warbird used in this work, a beautifully restored P-51C that looks so authentic, you really have to search the cockpit to find the modern avionics mandated to fly in controlled airspace (we have the same challenge with the F-100F based nearby as the front/rear cockpits look completely authentic until you look really close to see the GPS system in the front and the CD player in the rear). The disadvantage of museum aircraft is of course many of them have not been fully restored, so you'll find missing instruments (holes in the panels) and missing clusters. There are also a few unfortunate examples used which might be misleading for readers such as the F-14 Tomcat (rear cockpit taken in-flight of operational aircraft but front cockpit is from a NASA test aircraft with HUD and radar units replaced with flight test panels) or A-6 Intruder (left and right sides taken from an EA-6B Prowler).
This title offers a nice cross-section of cockpits from the US, Great Britain, Germany, Japan and Italy. A few other nations are also represented though I would have liked to see more from the former Soviet Union besides the Il-2 (Shturmovik, not Sturmovik) and the stripped-down MiG-29. Nevertheless, you have under one cover access to a wide selection of aircraft to help you with whatever project or assessment you're working. With the beautiful full-color cockpit photos alone, you can see not only the overall cockpit color(s), but also the different colors used in the details.
If you're looking for a nice one-stop-shop cockpit reference book that also features great perspective in how these cockpits came to be, grab yourself a copy of this book. This title is recommended!
My sincere thanks to Donald Nijboer for this review sample!