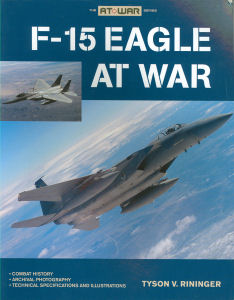 F-15 Eagle at War Book Review
| | | | |
| --- | --- | --- | --- |
| Date of Review | January 2009 | Title | F-15 Eagle at War |
| Author | Tyson V. Rininger | Publisher | Zenith Press |
| Published | 2008 | ISBN | 978-0-7603-3350-1 |
| Format | 192 pages, softbound | MSRP (USD) | $24.99 |
Review
The latest installment in Zenith's 'At War' series covers the McDonnell Douglas (now Boeing) F-15 Eagle. This series provides a good mix of history, operations, and photography, all at a reasonable price. This title is no exception.
The author start the coverage of this work with a perspective of the state of the art of combat aviation since World War 2 from the MiG-15 and aerial combat over Korea through the MiG-21 and aerial combat over Vietnam, with a look at the threats emerging at that time. This environment led to the development of two superfighters, the Navy's F-14 Tomcat, and the Air Force's F-15 Eagle. Where the Tomcat was tailored for fleet defense, the Eagle was designed to take the fight to the adversary, and no place was safe to hide. With the new generation of look-down/shoot down radars in the APG-65 and the latest in missile technologies with the AIM-7F and AIM-9L, the F-15 would become the ultimate cold warrior.
Deployed in USAF fighter squadrons worldwide, the F-15 Eagle had helped to keep the peace for almost 20 years. Eagles in USAF service wouldn't see much 'official' combat until Operation Desert Storm in 1991, and again back to Iraq again in 2003. Even though mostEagles are over 30 years old, they remain a potent fighter asset.
Take a look at the table of contents:
F-15 Concept
F-15 Development
F-15 At War
F-15E Strike Eagle
Weapons Load
Future of the F-15
The title does provide less than a page to Eagles in foreign service, so if you're looking for information on the F-15 in Israeli, Japanese, or Saudi service, you'll have to look elsewhere. This is a gap in this title's coverage since much of the F-15's success came from Israeli combat experience.
As usual with Zenith's "At War" series, this is a well-done book that will provide a unique look into some operational history and some interesting facts behind one o the finest American fighter aircraft ever built.
This title is highly recommended!
My sincere thanks to Motorbooks International for this review sample!