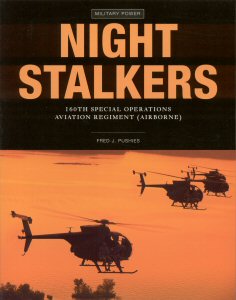 Night Stalkers Book Review
| | | | |
| --- | --- | --- | --- |
| Date of Review | June 2005 | Title | Night Stalkers |
| Author | Fred J. Pushies | Publisher | Zenith Press |
| Published | 2005 | ISBN | 0-7603-2141-8 |
| Format | 128 pages, softbound | MSRP (USD) | $19.95 |
Review
This is title I've been waiting for and the wait was definitely worth it! Night Stalkers is a look inside the 160th Special Operations Aviation Regiment (SOAR) that operate some of the most unique aircraft in the world.
Arising from the ashes of Operation Eagle Claw (the failed Iranian hostage rescue mission), Task Force 158 was created to provide training and equipment to support a second rescue attempt. When the hostages were released after President Reagan took office, Task Force 158's mission was over. The problem of US military aviation supporting special operations remained, so capabilities gathered for Task Force 158 were rolled into Task Force 160 and ultimately into the 160th SOAR.
The author has been given a look inside one of the most secretive organizations, and brings us a glimpse into the people and aircraft of the 160th SOAR. The coverage of this informative title is presented as follows:.
History
Organization
Missions
The Night Stalkers
Little Birds
MH-60 Blackhawks
MH-47 Chinooks
Into the Darkness
These men and women go places and do things that even Hollywood can't conceive, take for example the photo above. Here is an MH-60 in hover over a nuclear submarine delivering some special operations troops. The photos inside the book are no less fascinating as this title is well-illustrated with color photos of aircraft and crews. The photo sequence of an MH-47 partially submerging into the water so a special ops boat can quickly drive into the cargo bay is another good example!
If you've been looking for good photos of the AH-6/MH-6, MH-60/AH-60 or MH-47 from the inside out, your wait is over. This book is highly recommended!
My sincere thanks to Motorbooks International for this review sample!