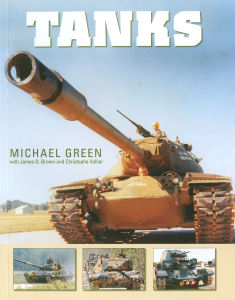 Tanks Book Review
| | | | |
| --- | --- | --- | --- |
| Date of Review | October 2008 | Title | Tanks |
| Author | Michael Green | Publisher | Zenith Press |
| Published | 2008 | ISBN | 978-0-7603-3351-8 |
| Format | 192 pages, hardbound | MSRP (USD) | $14.95 |
Review
Here is an interesting new title from Zenith Press. Author Michael Green takes on the topic of tanks, not any particular tank, but takes a step back and looks at the why and how of each principal armor developer's tank design philosophy. For example, prior to World War 2, the Germans built their tanks to defeat the armor of their opponents, whereas the US built their tanks to support the infantry and relied on specialty tank killers to deal with enemy tanks. Each nation developed their armor and their tactics based upon their unique operational concepts and requirements of the time.
In this new title, the author looks at each of these principal armor nations to see how each got here from there. These nations addressed are:
British Tanks
French Tanks
German Tanks
American Tanks
Russian Tanks
Tanks from Other Nations
The title is loaded with many color and some period black and white photos providing a nice look at the tanks and some of their interiors to illustrate the design and operational philosophies that led from one tank design to the next as experience and technology paved the way to more powerful combat systems.
This is a well-written book that will provide a unique look into the history and evolution of tank design from World War I to present.This title is highly recommended!
My sincere thanks to Motorbooks International for this review sample!