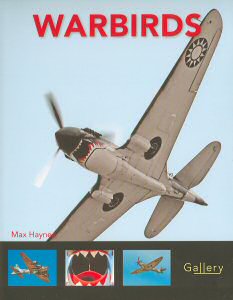 Warbirds Book Review
| | | | |
| --- | --- | --- | --- |
| Date of Review | September 2006 | Title | Warbirds |
| Author | Max Haynes | Publisher | Zenith Press |
| Published | 2006 | ISBN | 0-7603-2662-2 |
| Format | 192 pages, hardbound | MSRP (USD) | $14.95 |
Review
Here is an inexpensive reference from Zenith Press. Author and aviation photographer Max Haynes has compiled a nice array of contemporary airshow photos that effectively catalog the aircraft you're likely to see at your local airshow.
At first blush, this looks like another compilation of photos, but this one is a little different. The hardcore aviation buff will recognize 95% (or more) of the aircraft shown in this title. The average aviation buff, the one that likes to go to airshows to listen to the music played by Merlin, Allison, Pratt & Whitney, and more, will find this to be a handy quick-reference for those unique birds on the airshow circuit that are not seen regularly.
The title is broken down with data and nice photos of each of the following:

Introduction
World War I: The First Sightings of Warbirds

Fokker D.VII
Nieuport 28
S.E.5A
Sopwith Camel
Sopwith Pup

World War II: The Warbirds Shine

A-26C Invader
A6M2 Zero
AT-6 Texan/SNJ Harvard
B-17G Flying Fortress
B-24 Liberator
B-25 Mitchell
B-29 Superfortress
Bf 109
BT-13 Valiant
C-45 Expediter
C-47 Skytrain
F4F Wildcat
F4U Corsair
F6F Hellcat
Fairey Firefly
Fw 190
J2F Duck
J4F Widgeon
L-5 Sentinel
Nakajima B5N Kate
P-40N Warhawk
P-47 Thunderbolt
P-51C Mustang
P-51D Mustang
P-64
PBY Catalina
Polikarpov I-16
SBD-5 Dauntless
Spitfire
Stearman Kaydet
TBM Avenger

Post-World War II: The Warbirds Reach New Heights

AC-47 Spooky
A-1H Skyraider
An-2 Colt
DHC-1 Chipmunk
F-4 Phantom II
F8F Bearcat
FJ-4B Fury/F-86 Sabre
L-17 Navion
OV-1 Mohawk
P-82 Twin Mustang
S-2 Tracker
Sea Fury
Shackleton
T-28 Trojan
Yak-18/Nanchang CJ-6

Modern Times: The Airbirds Rule

A-10 Thunderbolt II
AV-8B Harrier II
C-5 Galaxy
C-130 Hercules
CH-46 Sea Knight
F-117 Nighthawk
F/A-18 Hornet
Is this title comprehensive? Heck no. There are quite a few warbird types not listed like the F-100 Super Sabre, MiG-15, MiG-17, L-39 Albatros, and more that also frequent the circuit. Nevertheless, this title provides a good first step in a quick-reference to what you'll see on the flightline. Each aircraft type is accompanied with a table of vital aircraft statistics and facts plus a brief narrative on the type.
If you're an average airshow enthusiast, or even a modeler wanting to see some different perspectives from restored examples, this title is inexpensive, small enough to fit a backpack or purse, and worth having around to keep those 'experts' honest.
My sincere thanks to Motorbooks International for this review sample!