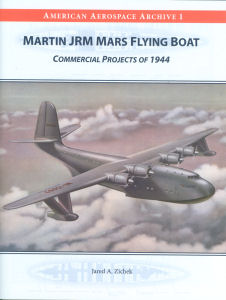 Martin JRM Mars Flying Boat Book Review
| | | | |
| --- | --- | --- | --- |
| Date of Review | October 2008 | Title | Martin JRM Mars Flying Boat |
| Editor | Jared Zichek | Publisher | American Aerospace Archive |
| Published | 2008 | ISBN | - |
| Format | 36 pages, softbound | MSRP (USD) | $9.95 |
Review
Here is the first installment of a new series of titles coming from an equally new publisher - American Aerospace Archive. The publisher says that they'll be looking at a variety of aircraft that might have been, ideas that never made it into production.
This first installment is a reprint of a proposal to industry from the Glenn L. Martin Company for a commercial version of their JRM Mars flying boat. Remember that the Mars was the largest flying boat ever to be produced, with only six examples to enter service with the US Navy, several of which are still flying today.
At war's end, Martin tried to rekindle the pre-war commercial demand for flying boats to extend air travel into regions where runways were not available. Unfortunately, the war created the very runway infrastructure that rendered the Mars less economical than its land-based counterparts. Nevertheless, the Mars had greater range and payload capacity than its counterparts, so the marketing of the commercial airlines pressed ahead.
This is a reprint of the marketing proposals submitted to gain orders for the commercial JRM. Inside, you'll find a two-page summary of the development of this concept aircraft, followed by the lavish artwork to illustrate to potential operators what passenger and cargo variant possibilities were available. Of course there are no actual photos in this title aside from the Navy JRM on the rear cover since none of these beauties were produced.
If you look at the title artwork in passing, you might think you're looking at the Hughes 'Spruce Goose' Hercules, but this aircraft had four engines versus the eight engined Hercules. What distinguishes the commercial version from its military counterpart is its single high vertical stabilizer.
This is a nice addition to your aviation archives and nicely recreates the color artwork of that era.
This title is recommended!
US customers can order this title here for $9.95 plus $1.40 postage. International customers can order their copy here.
My sincere thanks to American Aerospace Archive for this review sample!