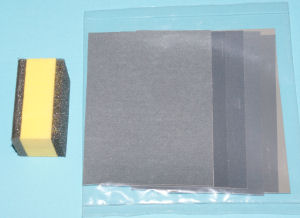 Alpha Abrasives Micro Finishing System First-Look
| | | | |
| --- | --- | --- | --- |
| Date of First Look | November 2010 | Manufacturer | Alpha Abrasives |
| Subject | Micro Finishing System | Set Number | TBA |
| Pros | Great new system for removing scratches and orange peel out of painted and unpainted surfaces | Cons | Nothing noted |
| Skill Level | Novice | MSRP (USD) | TBA |
First-Look
Alpha Abrasives is an interesting company based in Ontario Canada and produces a wide range of abrasive compounds and powders. Many of these compounds find their way to other companies where they are turned into sandpaper, sanding sticks, and other medium for a wide range of industries and applications.
The owner of Alpha Abrasives is a modeler and started developing products that would apply across the hobby industry. In addition, they also import a range of products from companies like Modelbrouwers.nl who have also developed a range of nice products of hobbyists. Most recently, Alpha Abrasives also bought out the Flex-I-File company and will continue to support that nice range of hobby products.
At the 2010 iHobbyExpo, Alpha Abrasives showed a new product that will benefit a wide range of modelers. This is a new Micro-Finishing System that has a great deal of flexibility (literally). Where many of us use the polishing pads from companies like Micro-Mesh, the pads have some limitations in their use. The pads are of a single consistency which does allow for some different shapes.
Here is the same abrasive system on treated sheets which make these waterproof and have a similar range of grit from fine to extremely fine for turning a painted or unpainted surface glassy smooth. Unlike the pads however, the sheets can be rolled up into different diameters to work areas that can't be reached by pads. What's more, that gray and yellow pad is an interesting bit of engineering. The yellow foam is a hard core that has minimal flexibility. One of the gray pads is as rigid as the yellow pad and provides a nice sanding block to wrap your sanding sheets around. The other side is a much softer gray pad which is ideal for surfaces that aren't flat.
This is an interesting approach to helping aircraft modelers achieve that glassy smooth finish in order to use metalizers and create that flawless bare metal finish. Car modelers will also really appreciate this system as it also will turn painted surfaces glassy smooth whether you're working out some orange peel in the base coats or prepping for that final gloss coat.
For more information about this set and the other releases from Alpha Abrasives, visit their website at Alpha Abrasives.
My sincere thanks to Alpha Abrasives for this review sample!