Artograph Model 1530 Spray Booth First-Look
| | | | |
| --- | --- | --- | --- |
| Date of First Look | December 2004 | Manufacturer | Artograph |
| Subject | Model 1530 Spray Booth | Pros | Filtering and airflow is great, even with lacquers, excellent design and construction |
| Cons | Price | MSRP (USD) | $499.95 |
First-Look
For those of us who've been modeling for a while, there is nothing like the smell of fresh paint to get you going. Then of course we do something foolish like get married and our spouses do not share our appreciation for workshop smells. Many of us have transitioned to acrylics as a gesture of peace and harmony, but there are still some colors that are only available as enamels. Then of course there is the further complication of metalizers. Nobody has figured out how to effectively do metalizers other than in a lacquer base ala Alclad. Spray some lacquer in the house and you'll be hearing about it for days.
When we moved into our current place, I converted the loft over the garage as my workshop. Unfortunately, it shares open airspace with the living room below. Whenever I sprayed upstairs, I received feedback from the wife rather quickly. I was encouraged when she was receptive to the idea of a spray booth (I think her exact words were "...or else") so I looked around for a suitable device.
One option is to build your own booth but this has some risks. You must ensure that the electric motor/fan unit is designed for exposure to flammable vapors or you might have a fire hazard instead. You also need to calculate your airflow requirements for the spray area involved or else you might not draw out the vapors at the same rate that you're shooting them into the booth. If the wife still smells paint at the end of the paint booth construction project, you're back to square one.
What I wanted was a booth that can accommodate a model at least 24 inches long and 12 inches wide. It had to support a light so that I wouldn't be airbrushing into the shadows. It had to have filter elements in the exhaust line since I don't want to randomly alter the color of the tops of our cars from the extracted vapors. I finally wanted such a booth ready to go so I wouldn't have to add a spray booth to my growing list of build projects.
I examined a number of spray booths offered by several of the hobby airbrush companies, but none of them offered the size and airflow I needed to keep the peace. Their offerings would work for 1/72 aircraft builders and 1/24 auto builders, but I like a variety of scales and subjects.
I had observed some nice looking spray booths at one of the hobby shows a few years ago, but neglected to pick up any literature. It wasn't until I was on this quest that I discovered that the booths were made by Artograph and happened across the Model 1530 at an online artists supply store.
The Artograph Model 1530 will hold a object up to 30 inches long, 13 inches high, and/or 15 inches deep. At the bottom of the booth is a huge plenum that draws 370 CFM of air right through the bottom of the spray area. On top of the plenum is a carbon filter element for neutralizing the odors, above that is a filter pad that grabs paint particulates, and above that is a thin filter material that serves as the air barrier between your work and the filters below.
What's nice about the downdraft design is that little excess spray is deflected out of the booth. An overhead exhaust system works almost as well, but your airbrush is spraying away from the filter/fan, not towards it.
The booth is made of metal, not plastic or cardboard as with some of the 'hobby' booths. The exhaust ducts (two) exit out of the side of the booth base, while the power cord and power switch are located on the other side. You have the option of selecting which side your booth with vent on as the hood attaches either way.
Near the top of the hood is a clear acrylic panel that you can either use ambient light to shine through or add your own lighting to the booth. I selected an inexpensive incandescent light and hood from my local hardware store which works great.
When I purchased my Artograph 1530, there was an interesting option available - a metal shelf that attaches to the rear of the booth to hold a roll of that filter material - it slides through the back of the booth. Now I can simply pull a fresh section into the booth after the material gets clogged after several models.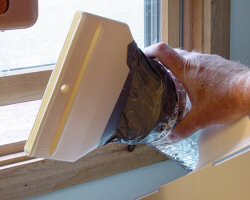 The last bit of logistics to take care of was the exhaust ducting. The exhaust ports on the spray booth use standard (US) clothes dryer flexible duct hose. I initially used some cheap plastic vents to exhaust the vapors out the window, but winter dictated that I keep the window closed. Then I found something cool - Mr. Super Booth Vent Attachment (Stock Number MAGT03E at Squadron Mail Order). This exhaust duct is designed specifically to exhaust through an almost closed window. I picked up two. Since the diameter of the Mr. Super Booth Vent Attachment is a bit smaller than standard clothes dryer duct hose, I used the universal adaptor to install these neat exhausts - duct tape.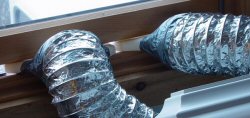 Now I can airbrush anytime of the year and still keep the wife happy. The Artograph Model 1530 works perfectly for my application, and they have several other sizes to choose from. While the $500.00 price tag is a bit rich for many modelers, you'll find that other 'hobby' spray booths are not significantly cheaper but are definitely smaller and not as well constructed.