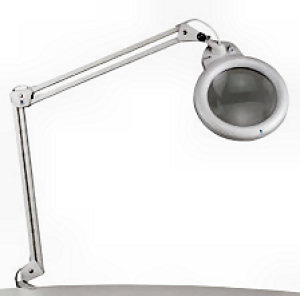 Daylight Company Ultra-Slim Fluorescent Lamp First-Look
| | | | |
| --- | --- | --- | --- |
| Date of First Look | May 2007 | Manufacturer | Daylight Company |
| Subject | Ultra-Slim Fluorescent Lamp | Pros | Excellent light and vision tool for the hobbyist |
| Cons | | MSRP (USD) | $159.95 |
First-Look
Over the last 20 years, I have used a four-foot two-lamp "chrome" fluorescent fixture for overall lighting of my modeling work area. In addition, I have, over time, used four different lamps with spring-balanced arms and magnifying lenses for directed lighting and close-up work.
None of the four would stay in place if extended to what I considered a usable position despite tightening the adjustment knobs to their maximum extent or even adding extra springs or heavy duty rubber bands to the arms. Two of them had the ballast in the base and the ballast eventually burned out. The other two consistently refused to stay in place where I wanted them so eventually discarded them. I have since found what I consider to be the best lamp with spring-balanced arms and magnifying lens.
About six months ago, when at a fabric store with my wife, the store had a new daylight-spectrum spring-balanced lamp with a large magnifying lens. Though rather expensive ($128.00 at their 30% discount from retail), I bought one. It is by far the best hobby lamp I've found. It stays where positioned, the lighting is excellent, and the magnifying lens is large enough to be genuinely usable (unlike my previous lamps where the lenses were barely large enough to be useful). I have since bought a second one and use it for the lighting at my Mini-Mill.
The info on the lamp is Daylight Company Ultra-Slim Fluorescent Lamp U22020, www.daylightcompany.com.
I've found this lamp available from a number of places on-line; a couple of them had the lamp at discount pricing. My recommendation is, don't go home without one.