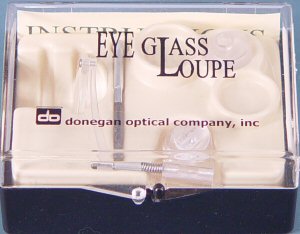 Donegan Optical Eye Glass Loupe First-Look
| | | | |
| --- | --- | --- | --- |
| Date of First Look | November 2004 | Manufacturer | Donegan Optical |
| Subject | Eye Glass Loupe | Pros | Clever clip-on loupe for eyeglass wearers |
| Cons | | MSRP (USD) | $24.69 |
First-Look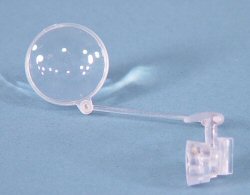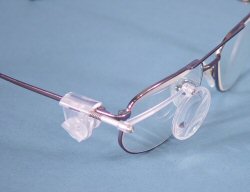 Eye Glass Loupe
If you wear glasses, even just reading glasses like I do, then modeling requires some visual assistance to inspect your handi-work. Figure painters especially work closely with their subjects, which can cause undue eyestrain to already tired eyes.
Jewelers have had the advantage of an eyeloupe, an optical monocular that allows for close-up eyeballing of the jewel or fitting that is being adjusted. Finding a reliable source and a reasonable price for such a device has been the challenge until recently.
Donegan Optical has produced an ingenious eye loupe that swings out of the way when not needed, can be adjusted to center on your eye with ease, and can work with your left or right eye, whatever your preference. The unique locking cam allows the loupe to be clipped onto and off of your frames in one second. The set comes with different sized cams to allow for different sized frames. The cam that was pre-installed worked perfectly with my own glasses, as you can see in the picture.
The difference between this eye loupe and one of Donegan Optical's OptiVISOR products is that the eye loupe is used for very close (macro) inspection - a mere inch or two away from the eye. When used with an OptiVISOR or OptiSIGHT, you have significant visual flexibility without the eyestrain. (Don't use these at the same time, rather use the OptiVISOR to work on your subject, then raise the visor and use the loupe to inspect your handy work.)
Unlike the custom eye loupes you might have seen before, this neat visual tool is inexpensive - around $25.00, and gives you a closer, clearer look at your work than the best-equipped IPMS judge.
You can find the Eye Glass Loupe at your favorite hobby shop and if not, they can special order it for you. In the meantime, you can read more about these and the other cool products from Donegan Optical by visiting their website at http://www.doneganoptical.com/
My sincere thanks to Donegan Optical for this review sample!