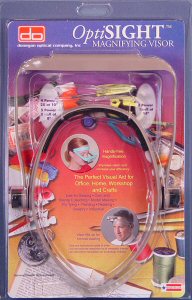 Donegan Optical OptiSIGHT First-Look
| | | | |
| --- | --- | --- | --- |
| Date of First Look | November 2004 | Manufacturer | Donegan Optical |
| Subject | OptiSIGHT | Pros | Great hands-free vision enhancement |
| Cons | Not comfortable with large heads | MSRP (USD) | $24.95 |
First-Look
OptiSIGHT
Many modelers have seen or used the OptiVISOR from Donegan Optical. It is just one of those tools that is as indispensable as your X-ACTO knife. While the OptiVISOR is very useful, some people may find the unit uncomfortable after prolonged usage, and as my cat discovered, the OptiVISOR blocks peripheral vision, so I never saw him sitting there when I swung my 1/32 Su-27 Flanker fuselage around for a different view.
At the 2004 Chicago Hobby Show, Donegan Optical was showing off a new product, the OptiSIGHT. This new visor is lighter and does not obstruct peripheral vision nor vision above the lenses. The OptiSIGHT comes with three different lenses in the package, and these are easily interchangable with no tools.
The difference in lenses are:
| Power | Working Distance |
| --- | --- |
| 1.75x | 14" |
| 2.0x | 10" |
| 2.5x | 8" |
There are several advantages of the OptiSIGHT over the OptiVISOR. First, the OptiSIGHT does not block upward nor peripheral vision as much as the OptiVISOR, but if you are working with bright lighting nearby, this may not be advantageous. Second, the OptiSIGHT weights almost half as much as the OptiVISOR (3.2 ounces for the OptiSIGHT, 5.7 ounces for the OptiVISOR. Plus, as I mentioned earlier, the OptiSIGHT comes with three lenses in the package at a retail price less than the OptiVISOR with a single lens.
The head band for the OptiSIGHT has an adjustable strap that connects the rear of the band to allow for sizing. I was unable to use this feature as it wasn't long enough to size to my head (no comments from the peanut gallery). While the OptiSIGHT would stay put on my head without the sizing strap, the headband did not feel as secure/comfortable as my OptiVISOR.
If weight is an issue of comfort for an optical enhancement tool, then you'll want to look at the OptiSIGHT, especially if you wear a smaller hat size. The unit provides improved visibility and with the extra lenses, greater versatility. If weight isn't an issue and/or you wear a hat size like mine (7 1/2), then you'll also want to try the OptiVISOR before choosing your vision enhancement tool.
You can find the OptiSIGHT at your favorite hobby shop and if not, they can special order them for you. In the meantime, you can read more about these and the other cool products from Donegan Optical by visiting their website at http://www.doneganoptical.com/
My sincere thanks to Donegan Optical for this review sample!