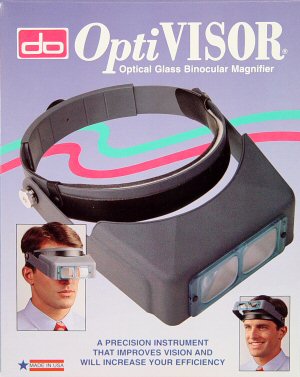 Donegan Optical OptiVISOR First-Look
| | | | |
| --- | --- | --- | --- |
| Date of First Look | November 2003 | Manufacturer | Donegan Optical |
| Subject | OptiVISOR | Pros | Great hands-free vision enhancement |
| Cons | Blocks peripheral and upward vision | Skill Level | All |
| MSRP (USD) | $31.75 | | |
First-Look
OptiVISOR pictured here with the optional VisorLIGHT.
Many modelers own or have used the OptiVISOR from Donegan Optical. It is just one of those tools that is as indispensable as your X-ACTO knife. The OptiVISOR is a lightweight, high quality optical magnifier that allows you to get a closer and clearer view of your work than with other devices. If you've used (or are using) a desktop magnifier, you will sometimes forget that you can't move your head around to look over your project – you must move the project under the glass.
Don't forget that the desktop magnifier is taking up valuable workbench surface. With the OptiVISOR, the optics are mounted on an eye shield that also serves to keep overhead illumination out of your eyes. When you don't need them, the visor simply flips up out of the way. The adjustable headband makes the OptiVISOR extremely comfortable and (at least in my case) easy to forget that it is still on your head. Now that I am a forty-something modeler, my eyesight is fine for everything except reading (and modeling). With the OptiVISOR, I don't need my reading glasses to work. For those (like my wife) that normally wear glasses, the OptiVISOR will work perfectly over most styles of glasses.
You can get the OptiVISOR with different lenses pre-installed, plus buy additional lenses should you want to change these for different applications. Each lens is set to focus at different distances, depending on the type of work you're doing. The lens differences are:
| Lens | Power | Working Distance |
| --- | --- | --- |
| DA-2 | 1.5x | 20" |
| DA-3 | 1.75x | 14" |
| DA-4 | 2.0x | 12" |
| DA-5 | 2.5x | 8" |
| DA-7 | 2.7x | 6" |
| DA-10 | 3.5x | 4" |
The one feature of the OptiVISOR that I really appreciate is the ratchet-like sizing system. You rotate the knob on the back of the visor to size the band to your head and it stays there. If you need to tighten it or loosen it for any reason, this is easily adjusted without removing the visor. A nice bit of engineering here!
I've been using an OptiVISOR for years, and when this new OptiVISOR arrived, my wife quickly 'acquired' it for her own hobby work.
If you have an OptiVISOR, you already know that you can't work without it. If you don't, go to your local hobby shop and try one. You can find the OptiVISOR at your favorite hobby shop and if not, they can special order them for you. In the meantime, you can read more about these and the other cool products from Donegan Optical by visiting their website at http://www.doneganoptical.com/
My sincere thanks to Donegan Optical for this review sample!