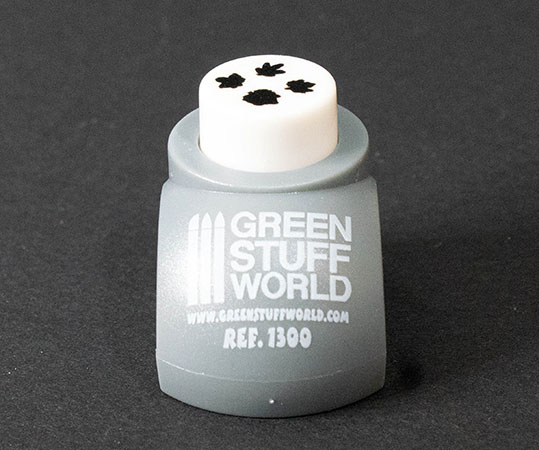 Green Stuff World Miniature Leaf Punch Review
| | | | |
| --- | --- | --- | --- |
| Date of Review | May 2018 | Manufacturer | Green Stuff World |
| Subject | Miniature Leaf Punch | Part Number | 1300 |
| Pros | Simple diorama/vignette tool | Cons | Nothing noted |
| MSRP (Euro) | 9,00€ | | |
Review
Here's an interesting tool to add to your diorama or vignette arsenal - this is the Miniature Leaf Punch from Green Stuff World in Spain. I've seen similar items in the past but none recently - until now. This is like a hole punch, but it has four patterns that punch out with a single stroke. I had to give it a try.
When you're modeling in scale, you want your model's base to look realistic and nothing looks better for leaves as real leaves except one little detail - they're too big. I rummaged through the garden and found a few volunteers for this review, but as you can see here, they don't seem to look right against a 1/48 subject.
The punch creates four patterns out of whatever material you punch - maple, red maple, sycamore, and poplar leaves. Punching real leaves make for realistic miniatures!
Now if I were setting up a grass landing strip scene or a static display, these leaves look the part. When applied to grass, brush, dirt, mud, etc., they provide that extra element of realism to the background.
According to Green Stuff World, the leaves out of this punch are realistic in size for dioramas or vignettes ranging from 1/32 to 1/43 (54mm, 32mm, and 28mm). You can leave them as-is, treat them (techniques are discussed online), and even paint then to suit your needs.
Whether you build aircraft, armor, automotive, figures, or whatever, this punch can provide that missing element to your work. The raw materials can be found in your yard, your neighbor's yard, or even the nearby park, and in my case, I can tell my wife that I cleared some of the leaves out of her garden...
My sincere thanks to Green Stuff World for this review sample!